Construction on 1km tall Saudi Arabian tower scheduled to begin next month, with EC Harris and Mace as project managers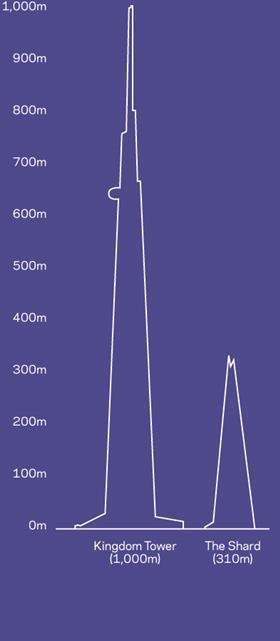 Above-ground work on the 1km-tall Kingdom Tower in Jeddah, Saudi Arabia, will begin next month, Building has learned.
Construction of the $1.2bn (£800m) skyscraper is set to start on 27 April and will be overseen by joint UK project managers EC Harris and Mace, as revealed by Building last year.
Construction is scheduled to complete over 63 months.
Once complete the tower will be the world's tallest, beating current record holder the 828m-tall Burj Khalifa in Dubai.
Client Jeddah Economic Company has not yet confirmed the exact height of the tower, but has indicated it will be over 1km tall.
In december, contractor Saudi Bauer completed piling work for the tower, including sinking 270 piles up to a depth of 110m.
The project's architect is US-based Adrian Smith + Gordon Gill Architecture, the contractor is Saudi Binladin Group, the structural engineer is US-based Thornton Tomasetti, the quantity surveyor is Omnium and supervision consultant is Dar Al-Handasah.
Kingdom Tower will form the centrepiece and first phase of the wider $20bn (£13bn) Kingdom City, a mixed-use district to the north of Jeddah.
In December the client, Jeddah Economic Company (JEC), hired a new chief executive, Mounib Hammoud.
EC Harris and Mace overcame 13 rivals for the role and will take control of ensuring the project hits its budget and construction timetable.
Former JEC chief executive Waleed Batterjee told Building last year the UK joint bid was picked partly for Mace's experience construction western Europe's tallest building, the Shard.
Kingdom Tower will be over three times as tall as the 308m Shard.