Exclusive: Consultant appointed to scheme in southern Malaysia that will develop office space equivalent to 100 Gherkin towers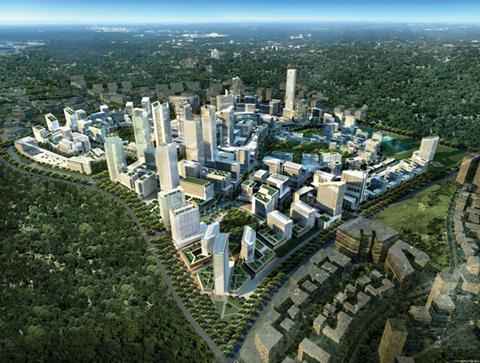 EC Harris has landed a lead role on a mammoth scheme to create a new business district in the southern Malaysian city of Johor Bahru.
EC Harris has been appointed by client MIM Berhard as design and development manager on the scheme, which is part of the wider 2,200-acre Medini scheme to create a mixed-use city district to the west of Johor Bahru.
EC Harris said the business district will deliver office space equivalent to 100 Gherkin towers.
Johor Bahru is a fast-growing city of 1.4 million people at the southern-most tip of Malaysia, separated by a narrow strait from the booming city state of Singapore.
The business district EC Harris is working on is one of six city zones that will make up the overall Medini district.
The Medini scheme will include offices, homes, public parks and a variety of leisure uses, including a golf course and incorporating the already-built Legoland Malaysia Resort. It comprises around 60 million square feet of new build development.
EC Harris said its role will include advising MIM Berhard on the mix and sequencing of buildings in the Medini business district and how to maximise the value of the land.
The consultant's appointment comes after EC Harris helped the client formulate business strategy and the masterplan for the district.
Ian Kennedy, EC Harris partner and head of Malaysia, said: "The Medini project offers a perfect canvas in which to showcase the benefits that a built asset consultancy approach can offer on major commercial development schemes.
"Our input at the very outset means we are ideally placed to ensure the design and implementation of Medini support the overall vision of delivering a Smart City that can act as a blueprint for future urban developments within Malaysia."
Ir. Khairil Anwar Ahmad, chief executive of Medini Iskandar Malaysia, said: "EC Harris has played a fundamental role in the progress we have made so far in taking this iconic scheme forward.
"Their knowledge and insight has been key in ensuring our business plan for the next stage of the development was commercially viable and fully supportive of the overall vision we have to create a smart and sustainable metropolis that will make Malaysia proud."
Medini is itself part of the wider 2,217 sq km Iskandar development zone, which incorporates Johor Bahru and the surrounding towns and is set to be developed over the next 15-20 years to cover an area three times the size of Singapore.