Exclusive: Richard Taylor and Mark Lacey to leave consultant's commercial team to set up their own firm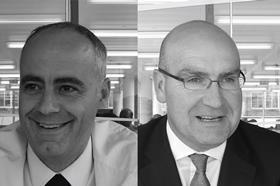 Two leaders of EC Harris' commercial team have resigned to start a new venture, Building can reveal.
Richard Taylor, head of commercial, and Mark Lacey, a partner in the London commercial team, will depart on 4 May.
Taylor and Lacey (pictured left and right) - who both joined EC Harris from rival Davis Langdon - have overseen a period of expansion for EC Harris in the commercial sector.
The pair have helped the firm secure some of London's most prestigious jobs in recent months, including the KPF-designed Scalpel tower, Goldman Sachs' European headquarters and a major extension to Selfridges' flagship Oxford Street store.
Keith Brooks, EC Harris' head of property, said the firm had held "careful discussions with clients" to ensure a "smooth transition" and will subcontract Taylor and Lacey's new venture on certain projects to ensure continuity.
Brooks added: "What they want to do is take up a new challenge together and start a business and we are supportive of them in doing that."
Taylor and Lacey are the latest high profile figures to leave a large cost consultant's London team to set up on their own.
Several big names have departed Davis Langdon's London-based commercial team in the past couple of years to launch start-up firms, including former London directors James Clark and Gerard Cook, who, together with three former non-equity partners, founded cost consultant CoreFive.
Davis Langdon's head of commercial Paul Allen, head of tall buildings Steve Watts, head of offices Iain Parker, head of retail Paul Zuccherelli and parent company Aecom's head of real estate Alex Davey have also all left the firm since last autumn, although it is not known what they plan to do next.
Brooks said he was "confident" there was room in the London market for "both major global players and small niche players". He added: "Our presence in the London commercial market has never been stronger".