Director of capital at education body says next £2bn phase of PSBP will take account of cost pressure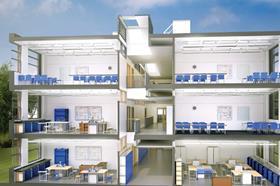 The man in charge of the government's flagship school building programme has said his organisation will consider revising the construction cost it is willing to pay for the next phase of the programme to take account of sharply rising prices.
Speaking at the Government Construction Summit this week, Mike Green, director of capital at the Education Funding Agency (EFA), said he was aware of the impact of the economic recovery upon construction costs, and would take account of cost pressures in the next £2bn phase of the Priority School Building Programme, running from next year.
He said: "Of course we are looking at cost. There's no point us having a programme with no-one wanting to work on it. We accept we have to remain attractive to the industry, and we'll keep that debate alive."
Green's comments follow predictions of sharply rising tender prices, particularly in London and the South-east, with reports of prices rising 10-15% in some trades.
They also follow the decision by contractor Bam to walk away from £50m of projects on a London priority schools batch after failing to agree a price with the EFA.
Speaking at the same event, Keith Rayner, Bam Construction framework director, said the firm was very committed to schools work, but that he was "very nervous about the future and programme being able to support it with the pockets of increases in [subcontract] prices that we've seen".
Rayner told Building: "There are question about how the programme will be delivered in the South, which is why we've had to walk away in some cases.
"Some times you're being asked to price projects that will be built in two-to-three years. Now I've no clue where the market will be in two-to-three years."

The infrastructure minister Lord Deighton said "creating a stable environment" for investment was the government's most important role in construction. He said: "The more intelligence you can give us about how to create that stable environment the better - I think you'll find us very responsive."
Lord Deighton also indicated the government would consider incorporating the low-carbon agenda into the government's National Infrastructure Plan (NIP). In response to question from Paul King, UK Green Building Council chief executive, Deighton said: "I'm an enormous fan of putting emissions reductions as one of our NIP projects. I'd be happy to look at that going forward." Deighton added that the government would publish an update on its NIP this summer with "even more detail".
Business minister Michael Fallon launched a new Built Environment Commitment on behalf of the government's Green Construction Board. He said the new commitment comprised a statement of intent that firms and industry bodies could sign up to that would demonstrate "a clear intention to improve business performance, particularly focused upon carbon reductions and cost savings". "It allows organisations to choose to take action on a range of issues including carbon reduction, waste reduction, improved resource efficiency and water risk," he said. "In addition it drives collective action, encourages a consistent approach to measuring and reporting and promotes knowledge sharing."
Fallon also announced that the government had decided to extend chief construction adviser Peter Hansford's appointment by a year to November 2015. Fallon said he was "delighted" with the role Hansford was playing and that the extension would enable Hansford to "continue his great work".
The industry's training and skills body CITB pledged to dip into its reserves over the next two years to pay more training grants and help the industry tackle it's skills crisis. The CITB's new chief executive Adrian Belton told the Government Construction Summit that his two priorities on taking up the role were increasing training grants and simplifying the levy system.