UK's biggest contractors outnumbered by foreign firms in running for Thames Tideway work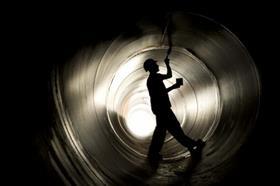 UK contractors Balfour Beatty, Laing O'Rourke, Costain and Morgan Sindall are among eighteen firms shortlisted for £2.25bn of construction work on the Thames Tideway Tunnel 'supersewer' project.
Today Thames Tideway announced the shortlist of eight contractor consortiums for the three main packages of work, worth up to £2.25bn.
The tender is separated into three lots with three separate contracts, which comprise: West (with an estimated value of £300m-£500m); Central (£600m-£950m); and East (£500m-£800m).
The eight consortiums include 10 overseas firms, including Bechtel, Dragados, Hochtief and Samsung, alongside eight UK firms. The project will operate at 24 sites across London as well as underneath and alongside the Thames.
Thames Tideway has said that although consortiums can be shortlisted for more than one lot they will not be appointed to do multiple contracts.
Mike Gerrard, managing director of the Thames Tideway Tunnel, said it would be "the biggest tunnelling project ever undertaken in the UK's water industry".
He added: "We have shortlisted the contractors with the right expertise and experience, who will deliver the best value for money for our customers.
"We are following a rigorous tender process and are confident the successful tenderers are capable of delivering the project."
Full Thames Tideway contractor shortlist
West
Bam Nuttall with Balfour Beatty and Morgan Sindall
Costain with Vinci and Bachy
Dragados with Samsung
Ferrovial Argroman and Laing O'Rourke
Central
Bam Nuttall with Balfour Beatty and Morgan Sindall
Costain with Vinci and Bachy
Ferrovial Argroman and Laing O'Rourke
Skanska with Bilfinger and Razel Bec
East
Bam Nuttall with Balfour Beatty and Morgan Sindall
Bechtel and Strabag
Bouygues Travaux Publics
Costain with Vinci and Bachy
Hochtief and Murphy