All the news as it breaks from the chancellor's post-election emergency Budget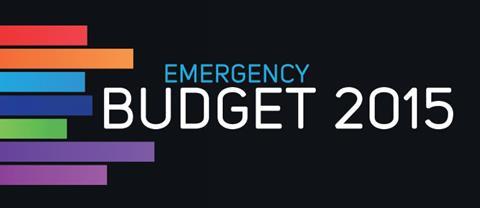 Building deputy editor Joey Gardiner will be updating this as we go along today – so keep refreshing for the most up-to-date news and analysis of today's speech, which kicks off at 12.30.

You can also follow progress on Twitter @BuildingNews
13.42 Interim labour leader Harriet Harman starts her reponse: "Chancellor is liberated from reality if he claims this is a budget for working people." "Ducking the question on Heathrow, a Northern Powerhouse where he's pulled the major projects."
13.39 Osborne summing up now: "This is the first Conservative budget for 18 years. A budget for the working people of Britain. One purpose, one policy, one nation." Huge uproar follows this last announcement - no question what will hit the front pages tomorrow.
13.35 Final measure of this budget coming up: Looking again at tax credits. "Britain deserves a pay rise. I am introducing a new National Living Wage - it will be compulsory, working people over 25 will receive it." Wow, this is big news - and wasn't leaked in advance. "Britain is getting a pay rise." Objective 60% of median earnings by 2020. He says it has been assessed by the OBR and it will only cost 60,000 jobs, as against 1 million that will be created over the parliament. The 1% additional extra cost to corporations will be offset by the corporation tax cut, he says.
13.34 This is a long speech - already over an hour from Osborne. Now commits to spend more money on armed forces - Nato pledge for 2% of income on defence. "Every year of this decade"
13.31 "The best way to support working people is to let them keep more of the money they earn." Rates of income tax remain unchanged - but thresholds affected. Tax-free personal allowance to £11,000. After that, the personal allowance always rises with minimum wage - "we never ask the worst paid to pay income tax". 40p rate threshold will rise to £43,000 from £40,000. "A down payment for a country on the up."
13.29 Tax credits for working families will be cut for those with more than two children. Similar cuts to housing benefit for larger families. Osborne pledges it won't hurt current claimants - merely new claimants from 2017.
13.26 Benefits cap will be reduced from 26,000 to 23,000 in London and 20,000 outside of London. This is important because it again makes social landlords' income less reliable
13.24 Announces that he will freeze working age benefits for four years. He's also saying he's worried about the way social housing rents have increased in the last five years - and therefore announces "rents paid in the social housing sector will be reduced by 1% a year for the next four years." This last one will be hugely opposed by housing associations - who will claim it will hit development. He doesn't mention that one of the reason rents have increased so much is that the coalition specifically increased them to pay for development.
13.22 All parents of 3-4 yr olds should get free childcare for 30 hours a week from 2017/18 (I think)
13.22 Those who can work should work and take it when it is offered. 18-21 yr old people must either earn or learn.
13.21 Osborne says welfare system should always support the elderly, vulnerable and disabled people. "We will not tax or means test diasbility benefits."
13.20 Now he's on to the welfare cuts. "Welfare spending is not sustainable and crowds out other spending."
13.18 Further cuts to Corporation Tax - to 19% next year and 18% the year after. "Loud and clear the message around the world - that Britain is open for business." Cheers from Conservative benches.
13.17 Reforms - and increases - tax on company dividends. Osborne claims it will only affect high earners.
13.15 Now removes "the outdated climate change levy exemption for energy generation."
13.12 He's moving on to pensions reform now. "Want to move from an economy based on debt to an economy based on savings and investment."
13.11 Now it's the increase in inheritance tax thresholds, much trailed. "It's not fair, and we will act." "Pass on up to £1m in housing to your children without paying tax. Promise made, promise delivered."
13.10 Now it's on to housing: "Unwavering in support for home ownership. Further planning reforms on Friday." Reforms to tax relief on buy-to-let landlords to stop unlimited expansion of this sector.
13.09 £30m for new Transport for the North body. Regions will decide their own Sunday trading regulations. "Let;s put the poweer into the northern powerhouse."
13.08 He says he wants to get on with the northern powerhouse, and there's an agreement with Manchester for further powers - including giving it control of a new land commission. "It is available to other cities that want to go down a similar path - in return for directly elected mayors."
13.07 Now he's on to rebalancing the economy. Mentions Crossrail 2. "But what really excites me is projects that rebalance the growth between North and South."
13.06 All remaining student maintenance grants to be transformed into loans. "Fair to students, fair to tax payers, and vitally to secure long-term economic productivity."
13.04 Skills section. Committed to 3 million more apprenticeships. Have to confont a truth: "Too many large companies take a free ride on the system. We will introduce an apprenticeship levy on all large firms." This could be very interesting - it's not clear whether for big construction firms this will be in addition to the levy they already pay. There will be huge controversy if it is.
13.03 Using money to create a new "roads fund". "Tax paid on people's cars will be used to improve the roads they drive on. It's a major reform." Fuel duty to remain frozen.
13.02 Introduction of VED bands for new cars - even when they are environmentally sustainable. Secure revenue at level today.
13.00 Infrastructure spend section coming up: "Need to fix Britain's poor roads." By 2017 over three-quarters of new cars won't pay Vehicle Exise Duty
12.58 Money for renovation of WW2 airforce bunker, announced with a jibe at Boris Johnson over aviation capacity: "Let it stand as commeroration of a time when airplanes flew free in the skies over west London."
12.57 Long technical section here on reforms to insurance industry
12.56 Bank levy rate to be reduced - and not levied on worldwide balance sheets
12.55 Abolishes "permanent" non-dom status - people living here permanently will no longer be able to access this tax break for foreign investors
12.54 Osborne pledges to clamp down on abuse of personal services companies to avoid paying tax - interesting to see what impact the detail of this will have on construction workers
12.50 Now Osborne gets the Tory benches cheering the NHS, saying he will implement the Stevens plans: "Proof that the NHS is only safe in Conservative hands."
12.49 Public sector workers will continue to face pay restraint for the rest of the parliament - 1% pay inflation a year
12.48 Detail of public sector cuts will not be set out until the Spending Review later in the year.
12.46 Time for Osborne to bring out the old chestnut - "We are all in this together"
12.45 Publishes fiscal charter, keep debt falling every year as a share of GDP. Government's required to keep surplus "in normal times" Only when OBR judges growth below 1% on a rolling 4th quarter basis will chancellors be allowed to not keep a surplus. There will be a vote on this measure in the autumn.
12.44 Predicting balancing the books in 2019/20, Osborne gets cheers for saying "Britain finally doing the responsible thing and raising more money that it spends. Britain has turned the corner and left the age of irresponsibility behind."
12.42 Deficit will fall to 3.7% this year - down from over 12% in 2010
12.41 With sale of RBS, Osborne predicts the largest privatisation proceeds of all time - beating previous record in 1987
12.40 Osborne lays out growth predictions - growth higher than thought last year, but growth forecasts cut with more uncertain economic environment
12.39 First mention of the northern powerhouse, in a list of actions where this government will be bold: "Bold in building the northern powerhouse. This is a big Budget for a country with big ambitions. It's set the way to secure Britain's future."
12.38 "You only need to look at Greece to see that if a country doesn't take control of its borrowing, its borrowing takes control of it," he says
12.35 George Osborne has stood, and sets out his main themes. This is a Budget for working people, he says
11.55 Welcome to Building's coverage of today's emergency/summer Budget (delete according to aversion to hyperbole).
While the press can't quite agree how to describe today's financial set piece announcement, there is at least no argument that this is George Osborne's seventh, and his first as part of a majority Conservative government.
As such, while there are fairly limited expectations regarding the contents of today's Budget for our industry, there is no doubt that it is a vitally important moment for the new government, with today's statements likely to set the direction of policy over the next five years.
So what do we think we know about what Osborne is going to say? In a sense it is surprising how much of the meat of the statement has already been leaked, particularly given Treasury permanent secretary Nicholas MacPherson's warning prior to March's Budget that he would call in the police in the event of any leaks prior to that Budget.
The overnight press has been full of the news that Osborne will slow the introduction of the much-heralded £12bn of welfare cuts he has to make in order to meet his tough fiscal mandate to balance the books by 2019. The Times has highlighted expected plans to cut taxes for the middle classes – not only raising the income tax threshold for the poorest paid, but for those paying the 40p rate too.
In terms of measures that directly affect our sector, there are few specifics beyond Building's exclusive last week on funding for Crossrail 2. There is bound to be more on the northern powerhouse, and the problems – or potential solutions - at Network Rail will be mentioned too.
We know from Osborne's interview at the weekend and a joint letter that he wrote with prime minister David Cameron, that social housing tenants who see their earnings rise will in future have to pay higher rents, and that inheritance tax thresholds will rise sharply. There is also to be a clampdown on councils that have not prioritised the formation of their local plans, though it is not clear whether this will feature in the budget documents specifically.
In this context it seems unlikely that Osborne won't at least mention housebuilding – Help to Buy, the proposed Starter Homes Initiative, as well as the proposed extensions of Right to Buy to housing association tenants.
For our full round-up of what is expected, see our analysis from last week's magazine.
Osborne is expected to stand up at 12.30, after prime minister's questions, and we'll report his speech live right here, so keep refreshing for all the latest news of import to the construction sector.