SME appointed as facade engineer on high profile project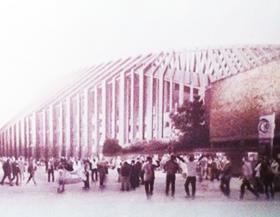 Structural engineer Eckersley O'Callaghan has been appointed to work on the facade at Chelsea FC's new 'gothic stadium'.
The SME has been appointed as facade engineer for the rib-like exoskeleton facade - a key part of Herzog & de Meuron's Westminster Abbey influenced design for the revamp of Stamford Bridge.
The £500 million-plus proposals, funded by owner Roman Abramovich, follow last year's study of the wider area by Lifschutz Davidson Sandilands which is masterplanning the project.
The plans would see two hotels on the site demolished to maximise space for the stadium, whose lower tiers would likely be below street level, in an attempt to increase the venues capacity from 42,000 to 60,000.
Aecom is strategic planner, WSP is providing railways and transportation expertise and German engineer Schlaich Bergermann is structural engineer on the redevelopment, to be built in brick on the existing ground in Fulham.
A three-day public consultation attracted around 1,500 people and has been backed by the Bishop of Salisbury in a letter predicting the new stadium to be a hit.