Hospital opened last week and began taking first patients on Tuesday

The BDP principal who helped come up with the plan to convert the ExCeL into an emergency coronavirus hospital has caught the illness himself.
James Hepburn, an engineer who has been with BDP for 13 years, also revealed his wife, a consultant anaesthetist at Great Ormond Street, might volunteer to work at the NHS Nightingale once she is out of quarantine.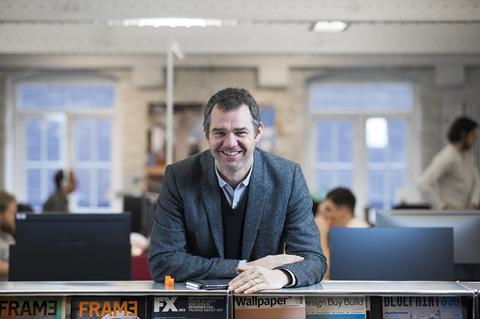 Hepburn is still recuperating after a "fairly mild" dose of suspected covid-19 which left him in bed for several days feeling "pretty shocking".
He had to leave the site after seven days of solid work on the 4,000-bed project, initially because he thought his daughter might be sick – before developing symptoms himself a few hours later.
"I had it quite mildly compared to some but for two or three days I was in bed feeling pretty shocking," he told Building's sister title Building Design.
"At first I was frustrated not to be on site for the completion, but then I was just ill. I'm a lot better now but it really takes it out of you and I still feel pretty exhausted."
His wife, Lucy Hepburn, banished him to the loft, a measure which paid off because the virus did not infect the rest of the family.
"Every time I tried to venture out, she threatened me with a multi-purpose spray so I just stayed up there feeling a bit like Terry Waite," he said. When his appetite returned she left his food on a tray at the bottom of the stairs.
Hepburn said his wife was desperate to get back to work and was considering volunteering for shifts at the NHS Nightingale when the call goes out.
"I think for anyone involved there's a feeling of anxiety because they are putting themselves at risk," he said. "But as long as the PPE can be delivered as it should be then I recognise the risk can be managed. I think they all feel they have a duty to do it and I'm supportive."
Hepburn said after Easter he is also hoping to return to the site where BDP still has a team of architects working with clinicians to fine-tune the design.
He added: "I took taxis to work and there was a lot of effort put into social distancing on site. There was a lot of hand sanitiser and hand washing and everyone was very conscious. But it's very difficult to do that when you are trying to build something. We'd have meetings with 40 people all trying to stand 2m apart and sometimes struggling to hear what people were saying. It was quite challenging."
Postscript
How we built it: read the full interview with James Hepburn in Building Design today.