Former Halcrow business now trading as CH2M Hill posts profit of £12.5m but US losses deepen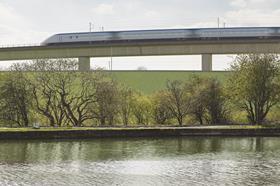 The former Halcrow business is back in the black two years after it was bought by CH2M Hill in 2011 and incorporated into the US engineering giant.
In accounts filed at Companies House this week, Halcrow Holdings, which now trades as CH2M Hill, reported a pre-tax profit of £12.5m in the year to 31 December 2013, up from a pre-tax loss of £20.5m the previous year.
The return to profit was largely driven by the UK, Europe and Ireland business, which posted a pre-tax profit of £15.3m in 2013, after a pre-tax loss of £9.4m in 2012.
The firm's Middle East and Africa division also boosted the results with an increase in pre-tax profit to £9.6m in 2013, up from £2.9m in 2012.
The UK, Europe and Ireland business was the only loss-making region in 2012 that managed to turn a profit in 2013.
Losses in the American business deepened to £6.6m, from £2m the previous year, while Halcrow's Asian and Australasian business cut losses to £164,000 from £3.6m in 2012.
Overall the firm also reported a 3% increase in turnover to £361m in 2013, up from £350m in 2012, with turnover in Europe, the UK and Ireland rising 8% to £215m.
Revenue from work in Asia and Australasia increased 2% to £56m, while revenue from the Middle East and Africa rose 14% to £74m.
However, revenue from the Americas halved to £15m in 2013, which the firm said was due to a "re-profiling" of the Americas division ahead of the planned closure of the business this year.
Writing in the accounts, Alasdair Coates and Sarah Harrington, directors of Halcrow Holdings said: "Aggressive steps were taken in 2012 to substantially alter and streamline Halcrow's operating profile to better align the cost structure with the markets.
"As in most acquisitions, there were redundant roles in support functions that allowed for meaningful overhead cost savings to be realised throughout 2012."
They said the strong UK and European results were boosted by the firm's involvement in large infrastructure projects, including Crossrail, HS2 and the Thames Tideway Tunnel.