Energy minister confident agreement on "strike price" for electricity imminent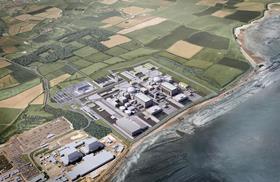 EDF is set to sign a deal with the government to build its Hinkley Point C nuclear power plant "within weeks", according to energy minister Michael Fallon.
The energy firm has been in protracted negotiations with the government over the price for the electricity from the plant that the government will guarantee - the "strike price" - for over a year.
Speaking to the Financial Times, Fallon said: "We're not quite there yet but I hope we will be in the next few weeks."
He said officials were "working intensely" to get the deal done.
The paper reported that there were still a "couple of boxes" to be ticked before finalising the deal, according to officials.
Once EDF has agreed a strike price it will seek to find further investors in the project before making a final investment decision itself.
British energy firm Centrica had been set to take a 10% stake in the project but it announced in February that it would no longer be investing.
In April, EDF signed an agreement with China Guangdong Nuclear Power Holding Co for "deeper industrial and commercial co-operation", which many believe could preface the firm investing in the Hinkley project.
Fallon said he felt that reaching a deal with EDF would unlock progress on the UK's nuclear new build programme including Hitachi's Horizon project sites at Wylfa and Oldbury.
He added that South Korean, Chinese and Japanese investors were all interested in the UK market.