Scheme is being project managed by Mace and will feature a large swimming pool, gym and fitness studio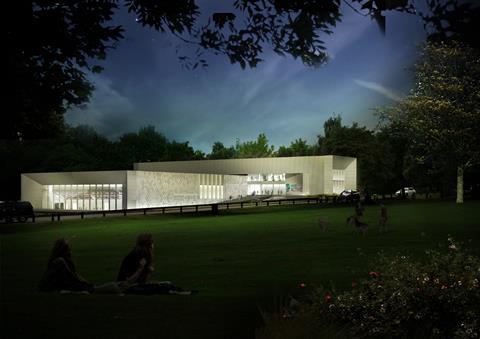 Architect FaulknerBrowns has designed a swimming and leisure facility for Derby City Council, which will include a 10-lane 50-metre long pool.
The scheme, which is being project managed by Mace, is to replace swimming pool complex alongside the Moorways Athletic Stadium.
Designs for the facility had been costed at a budget of up to £35m, according to the council.
As well as the main swimming pool, the facility will include a learner pool and a leisure water area for families.
There will also be a range of other features including a gym, fitness studios, sauna and steam rooms, a café and a soft play area.
The adaptable 50-metre pool contains two booms and two moving floors, affording the facility the flexibility to form three separate 25 metre swimming spaces or a variety of other arrangements.
Michael Hall, a partner at FaulknerBrowns Architects, said the new facility has been designed to respect the sensitive site context "whilst creating a strong and inviting visual presence which draws inspiration from the city's proud engineering heritage".
Earlier this week FaulknerBrowns got the go-ahead for a new teaching centre at Durham university.