Firm working on Southbank Centre revamp reports boost to UK workload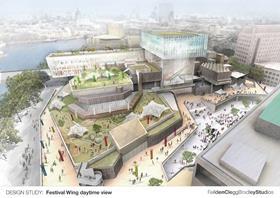 Architect Feilden Clegg Bradley has reported a 12% rise in revenue over the last year.
In accounts filed at Companies House, the firm reported a rise in revenue to £11.1m in the year to 31 March 2013, up from £9.9m over the previous year.
However, the studio also reported a 3% fall in operating profit to £2.2m, down from £2.3m over the period.
Writing in the accounts Keith Bradley, partner in Feilden Clegg Bradley, said the firm's performance was "satisfactory" and that he was "confident of the future performance of the firm".
Feilden Clegg Bradley is currently working on the redesign of the Southbank Centre in London (pictured) and a new campus for the University of Ulster in Belfast among other projects.
It reported a 13% rise in UK revenue from £9.7m in 2012 to £11m in 2013.
But it also reported a fall in revenue across Europe, the Middle East and the USA from £140,123 to £92,019.
The firm also reported a rise in average staff from 128 to 133 over the period.