Consultant appoints UK's foremost experts on BIM to head public sector business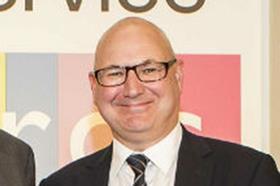 Faithful+Gould has recruited BIM guru and deputy head of estates at the Ministry of Justice, Terry Stocks, to lead its public sector business.
Stocks is regarded as one of the UK's foremost experts on BIM and, as the government's BIM Task Force delivery director, has been responsible for rolling out BIM Level 2 across government departments. At the Ministry of Justice, Stocks ensured the department was a leading public sector client in terms of adopting BIM and delivering BIM schemes and trial projects.
This year, Stocks was identified by Building as one of the 20 most important figures in government construction.
As Faithful+Gould's head of public sector, Stocks' role will involve growing the consultant's government work, with a particular focus on education. He will take up the role in June.
The news comes as the latest annual BIM survey, conducted by BIM resource NBS, has shown that BIM uptake is faltering for the first time since the government set the target for Level 2 BIM on public projects by 2016.
The survey, the results of which are revealed exclusively in Building this week, show that just 48% of respondents report using BIM, down from 54% last year. In addition, a marginally lower number of respondents said they were confident using BIM thanlast year. NBS said the figures showed the impact of an uptick in workloads, which meant that firms had less time to invest in developing new ways of working.
Stocks, a chartered structural engineer, has been a civil servant for 24 years. While at the Ministry of Justice, he project managed delivery of over 10,000 new prison spaces and introduced "lean" project management, achieving improved efficiencies of 25% in project out-turn costs.
Besides his role on the BIM Task Force, he has been chair of the central and local government stewardship group, and is also a member of the Cabinet Office Construction Client Board, which sets the agenda for UK government departments' project delivery.
Jon Sealy, UK and Europe managing director at Faithful+ Gould, said: "Terry has lived and breathed public sector procurement and his vision, knowledge and insight will prove invaluable to our market proposition."