Project chief Mark Wild says opening is still on track for first half of 2022
Crossrail's final phase of testing could start in late November, the man in charge of the £18.6bn scheme has revealed.
Mark Wild, the Crossrail chief executive, said the scheme, which is due to open by mid-2022, could start trial operations - the final stage of testing trains through the central tunnels - within two months.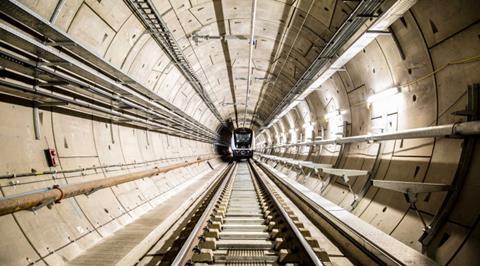 In his latest monthly update to the London Assembly transport chair Wild said: "The countdown process for trial operations has commenced reflecting on the lessons learnt from the trial running countdown. Senior stakeholders from all organisations involved have attended the countdown meetings that have taken place so far.
"Taking into account the necessary completion of testing, commissioning of software and the completion of safety assurance, the earliest date that trial operations can commence is towards the end of November 2021."
He added that, of the central section stations, only Bond Street posed any threat to this testing timeline but that the problem-plagued project at the station was "showing encouraging signs that it will meet its requirements to be able to support trial operations".
>> Crossrail: How the delay has unfolded
>> Mark Wild interview: why Crossrail will be worth the wait
He added: "The team at Bond Street are pushing hard and making good progress and there is growing confidence in the schedule to finish the station.
"The opening of the railway will be independent of whether Bond Street station is available for use by passengers, but the team continues to work towards getting the station open as soon as possible."
The only other station yet to be transferred to Transport for London is Canary Wharf. This is expected to happen later this autumn, while Abbey Wood station is forecast to be fully integrated into the railway within the next few weeks.
Both these stations are already sufficiently complete to support trial operations.
Wild's report did not provide an update on the scheme's financial position, which is widely understood to be short of what it needs to be.
In July, the National Audit Office said Crossrail still did not have enough money to finish the job despite being given nearly £3bn in government bailouts and that Bond Street station was expected to cost six times more than its original budget.
In a progress report on the scheme, the NAO said Crossrail needed to find more than £100m in missing money – despite being given a further £825m last December by the Department for Transport.
It received an initial £2bn in December 2018 when a new management team, led by Wild, concluded that there was not enough money to complete the work.
But Parliament's spending watchdog said: "The latest cost estimate of £18.9bn at May 2021 exceeds the available funding package by £120m."
Crossrail said last August that it wanted an extra £800m to £1.1bn to finish the job off.