Scheme to provide up to 2,550 new homes
HTA Design's masterplan for a huge £1.4bn estate regeneration programme in Battersea has been given the green light
The south London scheme, which will provide up to 2,550 new homes, was passed at the second stage by the Greater London Authority in November last year but was given the final sign-off by the local council last week.
Led by a joint venture between housebuilder Taylor Wimpey and Wandsworth council, the scheme will also feature designs by Stirling Prize-shortlisted Henley Halebrown, Figure/Ground, LA Architects and landscape architect Farrer Huxley. Planning consultant Montague Evans is also on the project team.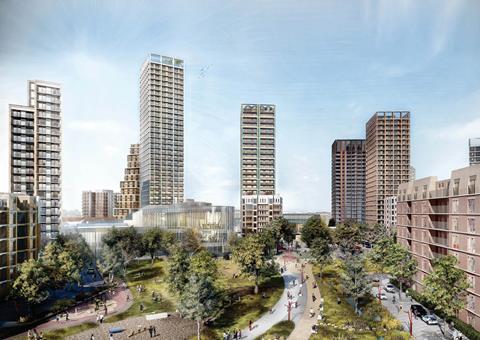 In addition to the new homes, 35% of which are designated as "affordable", the scheme includes a leisure and community centre, library, children's centre and nursery, and a new 2.49ha public park.
The tallest part of the scheme is a 32-storey HTA-designed residential block, with the leisure centre and library designed by LA Architects at its lower levels.
The council and Taylor Wimpey have already completed two housing blocks on the site and are building the new Battersea Baptist Church and Thames College school. These schemes, dubbed phase 0 of the masterplan, were given planning approval in September 2018.