The probe centres on the firm's exit from the energy from waste market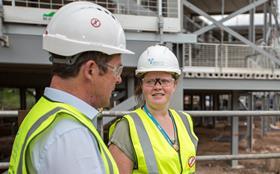 Interserve is facing investigation from the Financial Conduct Authority about the handling of its exit from the energy-from-waste business.
The financial watchdog is investigation concerns about the way Interserve disclosed information over a seven month period.
An announcement to the stock exchange said: "Interserve Plc has received a formal notice that it has been referred to the Enforcement Division of the Financial Conduct Authority for investigation in connection with the Company's handling of inside information and its market disclosures in relation to its exited energy-from-waste business during the period from 15 July 2016 to 20 February 2017.
"The company will co-operate fully with the investigation and will update the market on the outcome in due course."
The period under scrutiny runs up to the February date when former chief executive Adrian Ringrose announced that the cost of getting out of the sector had gone up from an expected provision of £70m, announced in May 2106, to £160m. New chief executive Debbie White revised this figure up again last October by £35m.
Interserve said in its 2017 results, which it published last week, that it has racked up losses of £215m on the initiative which began in July 2012 with the firm winning a £146m contract to build a plant in Glasgow which kicked off a slew of jobs across the country.
But Interserve said it was pulling out of the market 18 months ago after running up crippling losses on the Glasgow job.
Earlier this week, the boss of Interserve's construction business told Building it expects to have wrapped up its work completing its disastrous energy-from-waste (EfW) contracts by the end of this year.
Managing director of Interserve's UK construction business Gordon Kew said: "The whole energy-from-waste portfolio we expect to be out of this year."
The scale of the losses forced it into separating out its exited business under Ian Renhard, Kew's predecessor, who has taken charge of EfW jobs reporting directly to main board director Dougie Sutherland.
Kew, who became managing director in October 2016, said: "Having it as a separate business allowed me to run the rest of the [construction] business unencumbered."