Material being manufactured at site near Glasgow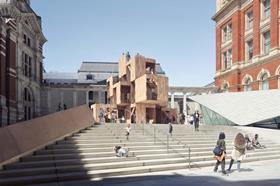 The first ever UK manufactured cross-laminated timber is set to be used at Waugh Thistleton's V&A pavilion.
The product, which is being produced by the Construction Scotland Innovation Centre near Glasgow, will be used in a 9m tall pavilion (pictured) the architect is designing for the V&A's new Sackler courtyard beside Exhibition Road as part of next month's London Design Festival.
Most of the CLT products used in the UK are currently trucked in from Austria.
When it landed the V&A job in May, Waugh Thistleton, which specialises in CLT buildings, said the project would arrive on site like a piece of flat-pack furniture and be built in less than a week.
Earlier this summer, Waugh Thistleton co-founder Anthony Thistleton warned the government's proposed ban on combustible cladding materials could spell the end of the construction method.
Thistleton told Building the proposals would stop CLT being used for the structure of residential buildings over six storeys high.
He said: "It could potentially mean a complete collapse of CLT in this country – we would go from a world leader to a backwater."