Contracts cover approach roads either side of the river Thames
The five firms on the shortlist for two road building contracts on the Lower Thames Crossing worth a combined £1.9bn have been named by National Highways.
Kier Eiffage, a joint venture comprising Kier Highways and Eiffage Génie Civil, is bidding for both jobs.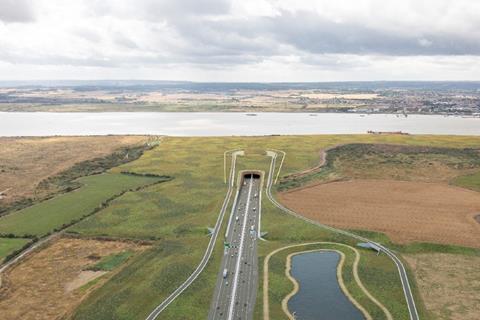 The contracts are for the design and build of connecting roads on either side of the £6.8bn crossing, which will become the UK's longest road tunnel built beneath the River Thames.
Four bidders are in the running for the £600m Kent roads contract, while two are competing for the £1.3bn package for roads north of the Thames.
Kent Roads (Lot 1)
BFV JV, comprising Bam Nuttall Ltd, Ferrovial Construction (UK) Ltd and Vinci Construction Grands Projets
Costain Ltd
Kier Eiffage JV, comprising Kier Highways Ltd and Eiffage Génie Civil
Skanska Construction UK Ltd
Roads North of the Thames (Lot 2)
Balfour Beatty Civil Engineering Ltd
Kier Eiffage JV, comprising Kier Highways Ltd and Eiffage Génie Civil
The shortlist for the £2.3bn contract to build the crossing's road tunnels was announced in April. Bam Nuttall, Ferrovial Construction and Vinci Construction Grands Projets, Bouygues Murphy Joint Venture and Dragados-Hochtief Joint Venture are in the running to build the 16m-diameter tunnels, some of the largest in the world.
When complete, the roads could almost double capacity across the Thames to the east of London by easing pressure on the Dartford crossing.
The project was originally scheduled to complete in 2027/28, but Highways England withdrew its application for a development consent order last year to alter the plans.
The changes, which have been made to improve issues including traffic management and the impact of the scheme on the surrounding environment, were unveiled in June.
A new development consent order application is due to be submitted this year, with construction expected to start in 2024 assuming the project gets the go-ahead. It would then be scheduled to complete by 2030