Firm lands first phase of Lifschutz Davidson Sandilands project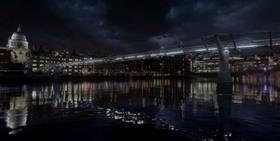 FM Conway has outshone its rivals to clinch the first phase of an art project lighting up 15 bridges over the River Thames in London.
The installation is called Illuminated River and takes place across a five mile stretch, making it the longest public art commission in the world according to its designers – artist Leo Villareal and architect Lifschutz Davidson Sandilands.
FM Conway will install lighting on the sides or bellies of four bridges – London Bridge, Southwark Bridge, Cannon Street railway bridge and the Foster + Partners-designed Millennium Bridge – predominantly using abseiling workers.
But on Southwark Bridge, the firm will work from barges moored to a pier in order to minimise disruption to pedestrians.
The firm has also said it will use encapsulation systems, netting surrounding the structures, on two bridges to prevent anything falling on river traffic.
FM Conway has previously worked for the Greater London Authority illuminating five bridges for the 2012 Olympics Games.
The firm, which manages 850 bridges and highway structures in London, will finish the job in summer.
The client is Illuminated River Foundation, a charitable organisation set up to deliver the project.