Training board needs "fundamental reform" after one-vote majority in favour of levy proposals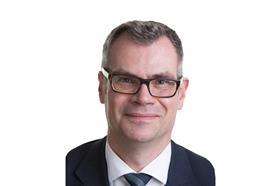 The Federation of Master Builders (FMB) has warned the CITB that it is effectively 'on notice', after it backed the continuation of the board's training levy scheme by the slenderest of margins.
FMB members voted by 83 to 82 in favour of its levy proposals, with the federation's top brass warning the CITB it would have to undergo "fundamental reform" and be "totally transformed".
Voting in the CITB's triennial consensus period is set to conclude at the end of this week, with the result announced in November.
The FMB is the latest organisation to support the training body's continued existence, after Balfour Beatty threw its weight behind the group earlier this month after earlier suggesting – through its chief executive Leo Quinn – that it should be disbanded.
But while he confirmed its backing in a letter to the CITB's chief executive Sarah Beale, the FMB's chief executive Brian Berry (pictured) stressed his members were "dissatisfied with the performance of CITB" and "do not want this support to be interpreted as support for the status quo".
FMB members had accepted the construction industry's skills shortage would be exacerbated if there was no industry board "to drive training in the sector", he said, but this did not let the CITB off the hook. "This is its last chance," he added.
"If we do not see positive change within the organisation, and if the organisation does not achieve better outcomes, the FMB will recommend to its members that we remove our support during the next consensus process in three years' time."
The CITB had to "work for the greater good of the construction industry", Berry added, with grants being invested "strategically and where they are most needed…not used to placate certain sub-sectors of the industry".
Additionally, Berry demanded a review of the CITB's corporate structure, arguing that it was "shocking" that the CITB board contained only one representative from a SME construction firm.
"Furthermore, this individual is a Human Resources professional rather than someone with an SME contractor background.
"Given that SME firms make up 98% of the construction industry and train two-thirds of all apprentices, the FMB wants to see this reflected at board level with at least half of its members being SME contractor representatives," he said.
Earlier this month the CITB responded to criticism about its allocation of funding, outlining a number of schemes it had backed with cash.
The Home Builders' Federation said that it was still to reveal the results of its members' poll on the CITB, however earlier this month it suggested that funds be ring-fenced for training specific to housebuilding, while the FMB has rejected such a move.