Former Carillion chairman Sir Neville Simms is to take charge of the £4.1bn Thames Tideway 'supersewer' project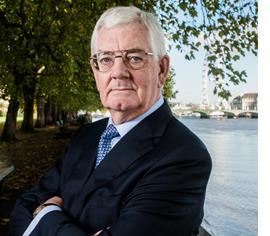 Thames Water said Simms, who is a former chief executive of Tarmac and chairman of Carillion, had been appointed as chairman of the Thames Tideway Tunnel and would focus on preparing the landmark project for its move to the delivery phase, pending the granting of planning consent.
Sir Neville said: "I am thrilled to be joining the team driving forward this much-needed addition to the nation's infrastructure.
"The project is fundamental for London's future growth and well being. I strongly believe that it is now the turn of our generation to repeat the foresight of our Victorian ancestors and ensure that the capital's sewerage system is fit for purpose for the 22nd century.
"London and the country deserve nothing less."
Sir Peter Mason, Chairman of Thames Water, said: "Spanning four decades, Sir Neville's experience in delivering some of the UK's most significant infrastructure projects, including the Thames Tidal Barrier and the Channel Tunnel, is exceptional.
"His appointment is extremely good news for the many people anxious for the Thames Tideway Tunnel to become a reality."
The Planning Inspectorate is currently examining an application for approval to start construction work at 24 sites, from Acton in west London to Stratford in the east.
As Building revealed in October, UK contractors Balfour Beatty, Laing O'Rourke, Costain and Morgan Sindall are among eighteen firms shortlisted for £2.25bn of construction work on the project.
The award of the construction contracts is scheduled for 2015, with the main tunnel works due to begin in 2016, lasting seven years.