Exclusive: Four contractors in the running for prestigious £25m Trafalgar Square refurbishment and extension scheme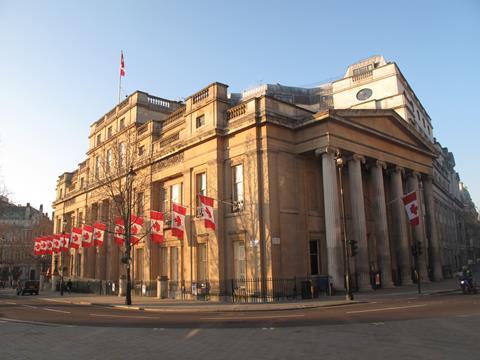 Four contractors are battling for the £25m contract to refurbish and extend London's famous Canada House, the home of the Canadian High Commission, Building can reveal.
Chorus, Como, Bam Construct and Overbury are in the running for the prestigious Trafalgar Square job with bids due to go in at the end of this month.
Another contractor, Lend Lease, pre-qualified but decided against bidding, Building understands.
The scheme, drawn up by Canadian architect Stantec and UK heritage architect Purcell, involves redeveloping and extending Canada House into the adjacent 2-4 Cockspur Street – formerly the home of DCMS - to create an 8,000sq m home for the Canadian High Commission.
The renewed Canada House is intended to "highlight Canada's products and place in the United Kingdom both historically and in the 21st Century".