Border Agency arrests workers after enforcement visit to London Bridge site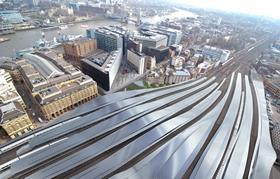 The UK Border Agency has arrested four immigration offenders after an enforcement visit to the £400m overhaul of London Bridge station.
The four men from India were arrested after Border Agency officials visited Lanarkshire-based civils specialist Bowercross Construction Ltd, which is working on the project.
The Border Agency arrested three of the men during a visit to the site, acting on intelligence. Two, both aged 27, had overstayed their visas, while a 38-year-old had entered the country illegally.
Officers then arrested a 21-year-old man who was working in breach of his visa conditions at an address in Church Street, Stratford.
One of the 27-year-old men and the 38-year-old were transferred to immigration detention pending their removal from the UK.
The other two men have been placed on immigration bail and are required to report to the Home Office while arrangements are made to remove them.
BCL was served a notice warning the employers that a civil penalty of up to £10,000 per illegal worker found at the site will be imposed unless proof is provided that the correct right-to-work checks were carried out. This is a potential fine of up to £30,000.
Claire Shacklock, from the Home Office Immigration Enforcement team in East London, said: "We regularly carry out operations like this in London and have more planned in the future.
"Those we find working illegally face arrest and removal from the UK.
"Illegal working has a serious impact on communities, undermining legitimate businesses and taking jobs from those who are genuinely allowed to work.
"While we are happy to work with businesses to let them know what checks need to be done on staff, those who do break the law should know that we are out there looking for them and they will face heavy fines.
"I would urge members of the public with information about suspected immigration abuse to get in touch."
Costain is the main contractor on the 5-year overhaul of London Bridge station, a key part of Network Rail's £3.6bn Thameslink programme.
The London Bridge revamp includes a new platform layout, new entrances and the creation of Britain's largest station concourse, which will be larger than the pitch at Wembley Stadium.
Costain and BCL have been contacted for comment.