Laing O'Rourke understood to be negotiating deal for scheme designed by KSS
Plans to expand Leicester City's football stadium by 8,000 seats and build a 20-storey residential tower have been given the green light.
The city council voted unanimously to back the planning officer's recommendation to approve the hybrid application after a debate lasting just 50 minutes.
Full permission was granted to add an upper tier above eastern stand of the King Power Stadium, which was designed by Holmes Miller and completed in 2002 by Birse at a cost of £27.5m.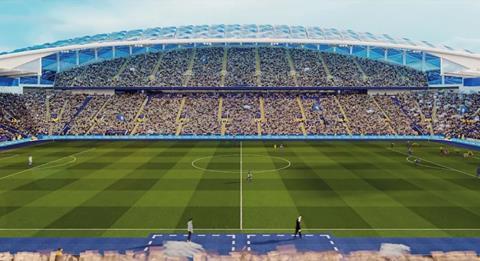 The new structure, which will partially wrap around the north and south stands, will increase the ground's capacity to 40,000. It has been designed by KSS Architects.
Outline permission was also granted for a 20-storey residential tower consisting of 234 homes of various tenures, a 220-room hotel, a 6,000 capacity area for events, a multi-storey car park and a club retail store.
It is understood that Laing O'Rourke is being lined up to carry out the job, which will see the stand built behind the existing stadium and then adjoined during an off-season.
The firm, which is currently building Everton's new ground, is believed to be negotiating with the Foxes over the price of the work.
The 9 ha site is located a mile south west of the city centre and includes the stadium grounds and a recently purchased National Grid building located east of the stadium.
The planning officer said in July that the scheme would allow the club, which is currently languishing at the bottom of the Premier League table, to "remain competitive" within the league and European club competitions.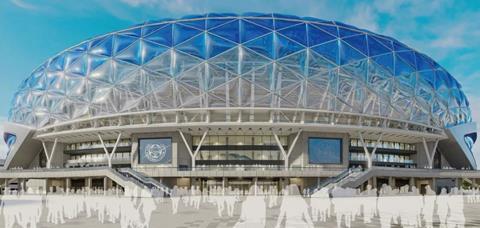 The report also said that the plans would "enable increased capacity for concerts and non-sporting events, enhancing the profile of the city in hosting such events contributing to the economy and cultural offering".
See also>> To refurb or rebuild: what next for Old Trafford?
See also>> Old Trafford dilemma: how six other major stadium projects fared
The outline permission included an addendum allowing further consideration of the scale and massing of the hotel, which was deemed to have a potentially harmful impact on the city's townscape.
The report also noted the scheme's potential negative impact on the setting of the Raw Dykes ancient monument, a pair of Roman aqueduct earthworks dating to the first century, although it concluded that any harm could be mitigated through archaeological works secured through a section 106 agreement.