Exclusive: Former chairman woos shareholders with promise to quadruple share price if bid to return succeeds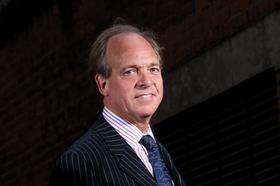 Former Sweet Group chairman Francis Ives has vowed to quadruple the consultant's share price within four years if he is successful in his bid to return as chairman of the firm.
The pledge comes after Ives last week launched an attempt to regain control of the consultant he led for more than 19 years.
Speaking to Building this week, Ives said his target was to return Sweett's share price to around £1 per share - a level not seen since April 2008, six months after the firm floated on the London Stock Exchange at more than £1.20 a share.
The firm's share price has crashed to a fifth of that value since then – it closed at 23.5p on Monday.
Ives, 64, who is still the firm's second largest individual shareholder with 4% of the stock, and other disaffected shareholders holding a further 10% of the stock, requested an Extraordinary General Meeting (EGM) in a bid to get Ives reappointed as chairman last Thursday.
After receiving the EGM application, Sweett Group has 21 days to inform shareholders of the date, time and place of the EGM. The EGM motion requires a simple majority to pass.
Ives said that the EGM move was "inevitable" after Sweett Group reported its first ever loss, breached its banking covenants and made losses on foreign exchange instruments in its last full financial year to 31 March 2012.
Ives said he was "delighted" by good financial news since then - including a return to pre-tax profit of £1.6m in its half-year results and an order book in excess of £100m for the first time. However, he said underlying issues remain, particularly the firm's "weak balance sheet".
He said he had the experience needed "to get the firm back on the rails" and his priority would be cutting overheads and financially incentivising staff who contribute to growth. He also proposed an "immediate" financial and strategic review of the business, with proposals put to shareholders within three months.
The board does not support Francis Ives' proposal

Sweett Group statement
He added he would seek to bulk up Sweett rapidly through mergers or acquisitions with other independent consultants so that it can "better compete" with large, multidisciplinary rivals.
Ives will begin trying to persuade shareholders - the majority of whom are current and former Sweett staff - to back the motion in the coming days.
Ives said he has tried to persuade current non-executive chairman Michael Henderson to step aside for him but they have failed to reach an agreement.
He said he would be a "highly-visible" chairman with an executive role.
Ives said further management change was something he would "like to avoid" and he would be "delighted" to work with the three executive board members, chief executive Dean Webster, European managing director Derek Pitcher and Asia managing director Kim Berry.
In a statement, Sweett said: "As a Plc we pride ourselves in having best practice corporate governance processes and procedures in place for the hiring of new directors to the board through our nominations committee.
"As such, the board does not support Francis Ives' proposal and we do not consider it to be in the best interest of shareholders.
"We will be making further announcements in due course and in the meantime advise our shareholders not to take any action."
Ives spent a number of months following Sweett's announcement of weak results last year trying to attract a new institutional shareholder to invest more capital for the business to grow but this was not forthcoming.
He confirmed his departure from Sweett in 2010 was not amicable as he "fell out with the rest of the board over the appointment of a new member".
He said Sweett has "taken its eye off profit, investing in the business and shareholder value".
He added: "My credentials are that I've already done the job. I've managed this business through several recessions already. Professional firms need a figurehead with an industry profile. You need an executive role because it's all hands to the pumps. I have a strong track record in mergers and acquisitions."