Board raised concerns over how many workers would be able to get going on restarted job
Furloughed staff in Crossrail's supply chain hurt the project's ability to remobilise after the covid-19 lockdown, board minutes have revealed.
Recently published minutes from the board's meeting at the end of May have revealed that resourcing difficulties in its supply chain had caused problems when work on the £19bn project restarted.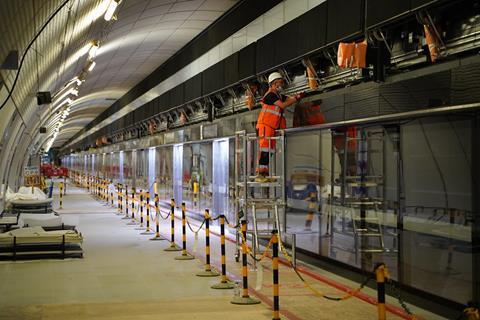 The papers said: "Furlough seemed to be having an impact on productivity and how quickly the supply chain could remobilise their staff.
"The board requested clarity on the issue of the impact of furlough on smaller suppliers' availability."
Work on Crossrail was brought to a stop on 24 March, the morning after the prime minister ordered a national lockdown, in efforts to stop the spread of coronavirus.
It also said part of the work being done on the recovery programme was to ensure that resources match the scope of works still to be completed on the project.
> TfL planning for 2023 Crossrail opening
> Crossrail: How the delay has unfolded
Crossrail's board will met yesterday (21 August) to thrash out a new opening window and budget for the project after last month confirming it would not be ready next summer.
At the time, Crossrail chair Tony Meggs said a "more comprehensive update" would be outlined following this Crossrail board meeting but added more "over-optimism" about opening dates was avoided.
Meggs said: "We have suffered on Crossrail in the past for prematurely providing forecasts that haven't been through sufficiently rigorous analysis.
"We do not want to do that again, so we plan to provide a revised cost and opening windows on 21 August but I do want to put that caveat in there. We will not issue a forecast that we do not have full confidence in."
Meggs said covid-19 had been one reason for the programme missing its latest deadline but added delays caused by the pandemic were not the sole issue. He has previously said the scheme has been plagued by productivity problems.