Simon Jones joined cost consultant back in 1977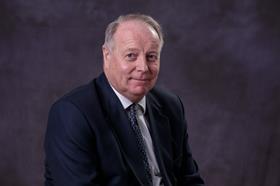 Gardiner & Theobald's managing partner is stepping down next month ending more than four decades at the business.
Simon Jones (pictured) joined in 1977 and became a partner a dozen years later before taking over from Peter Sanders as managing partner in 2006.
He is being replaced by Adam Glover, who joined the business back in 1989, and who currently heads up the firm's project management arm.
Glover was appointed as a partner in 1997 and took up the project management leadership role in 2005.
And the firm's managing director of its US business, Andrew Mann, is also going after 40 years at G&T. Mann set up its US business in 1992 initially in Atlanta before relocating it to New York. Mann is being replaced by Jonathan Andrew who works out of the New York office.
The rejig comes as the firm reported that turnover had reached the £180m mark in the year to April 2018, up from £172m the previous year.
Distributed profit also grew, almost hitting £50m up from £47m the previous year.
Over the past 12 months, 81% of the company's turnover came from the UK while another 18% was earned in the US. The remaining 1% came from the Nordic countries.
The firm's London business – which is working on a string of high-profile projects including Renzo Piano's Shard Place residential scheme, being built by Mace, and Stanton Williams'scheme to revamp the Royal Opera House, while it recently completed work on Heatherwick Studio's Coal Drops Yard scheme at King's Cross built by Bam – brings in two thirds of its UK work with revenues of £109.5m.
G&T has been increasingly focussing on its UK and US work and in the past year pulled out of markets in the Middle East and Ireland.
A spokesperson for the consultant said "This strategy was completed in the last two years with the transfer of our businesses in Ireland, the Middle East and Scandinavia to the local management teams.
"We do work internationally on a selective basis but we are not operating in these markets currently."
More than three-quarters of G&T's business – £140m – is in cost and project management.
The next biggest earner was the rail and infrastructure division, which raked in 5% or £8.6m of the company's turnover.