Tory MP hits out at government's proposal for a raft of new garden cities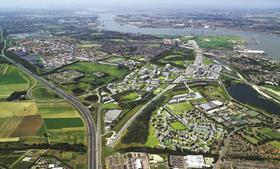 A Conservative MP has hit out at the government plans for a raft of new garden cities to help alleviate the UK's housing crisis.
Chancellor George Osborne announced government support for a new "garden city" in Ebbsfleet in this year's Budget, and the communities department has since published a prospectus calling for local authorities to come forward with plans for major developments.
However, speaking at a fringe event hosted by the Town and Country Planning Association, Conservative MP Mark Pawsey, a member of the Commons communities select committee, hit out at the plans.
He said: "I do want to challenge the notion that we'll suddenly get a whole load of support and goodwill from communities for garden cities in their areas.
"We saw what happened with Labour's eco-towns, and it has been left to us to bring forward Ebbsfleet. But I would rather see garden city principles adopted to support sustainable extensions to existing places, rather than new stand alone settlements.
"It's like the airports debate which has been put in the long grass until after the election.
"If we continue to talk about garden cities then it will just allow the planning and construction of homes we need to be delayed."
Pawsey's comments come after new housing minister Brandon Lewis earlier this month made clear the government will not take forward the plans for garden cities advocated by the winners of this year's Wolfson Prize for economics.
Chris Tinker, executive board director at housebuilder Crest Nicholson, speaking at the same conference fringe event, said that while the firm supported the principles of garden cities, it saw no prospect of any being brought forward without major changes to the way homes were planned.
He said: "A garden city will take at least three electoral cycles even to get adopted as a plan.
"There's no way the private sector can do that; it has to be fronted by the public sector.
"And when you look around at how much money is available to do that, we're not holding our breath waiting for a lot of garden cities to come forward."
The Labour party has pledged to support a new generation of garden cities should it be elected to government.