Architects unveil designs for phase 3 of £8bn redevelopment of iconic power station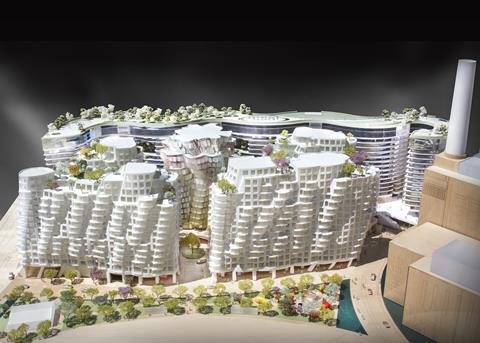 Frank Gehry and Foster & Partners today unveiled their designs for flats and a pedestrianised retail high street beside Battersea Power Station.
The high street, to be called Electric Boulevard, is Gehry's first permanent London project.
Foster and Gehry's work forms phase 3 of the £8bn redevelopment of the 16ha riverside site. It will include 103 "affordable" homes.
Phase 3 forms part of Rafael Vinoly's masterplan which contains 3,700 homes, 150,000sq m of offices and 45,000sq m of retail.
Purcell and Wilkinson Eyre are working on the restoration and conversion, respectively, of the grade II* power station.
Work has begun on site on the first phase flats, designed by Ian Simpson and dRMM.
Frank Gehry said: "Our goal from the start has been to create a neighbourhood that connects into the historic fabric of the city of London, but one that has its own identity and integrity. We have tried to create humanistic environments that feel good to live in and visit."
Grant Brooker, design director and senior partner at Foster & Partners, said: "We moved our own office to Wandsworth almost 25 years ago – the borough is very important to us - so we were absolutely delighted to be chosen by the shareholders of Battersea Power Station to be part of this inspiring regeneration project. It will transform the area and
Rob Tincknell, chief executive of Battersea Power Station Development Company, said: "We have set out to make Battersea a showcase for the world's very best architects and the designs we are unveiling today demonstrate that commitment in action."
Architecture minister Ed Vaizey said: "Battersea Power Station is an iconic site and the unveiling of this exciting new design by Frank Gehry and Foster & Partners will ensure the development of this former industrial site will put Battersea on the world stage once again.
"The plans for a new high street for the capital show that London continues to attract the best in terms of architecture, design and innovation."
This story first appeared on Building Design.