Chariman of Dortech refuses to work with firm in protest at its payment practices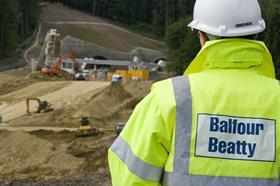 A glazing contractor which has worked with Balfour Beatty for more than a decade is refusing to work for the firm in protest at its payment practices.
According to today's Daily Telegraph, Steve Sutherland, chairman of Dortech, is sacrificing £5m - more than 40% of his company's £12m turnover - because he alleges that Balfour Beatty's approach risks putting suppliers "out of business".
He told the paper: "We've done 80 projects for them so this hurts us a lot. I'd love to work for them again but we just can't take the risk."
Sutherland claimed that Balfour Beatty's payment practices have caused Dortech to make a loss on a number of recent projects.
He acknowledged the issue is not isolated to Balfour Beatty, but said subcontractors are usually too afraid to speak out against contractors with poor payment practices.
He told the paper: "They exploit their financial clout. It's not illegal, but morally, ethically? I have my view. I don't think elephants worry about stepping on ants."
He also hit out at the process of valuing work and at "withholding notices".
"The whole process is used as an excuse to avoid paying, drive the cost of the project down and improve their cash-flow. Do they care about the unintended consequences, which is the risk of putting people out of business?" Sutherland said.
He said he believed the management of Balfour Beatty is "well- intentioned" but claimed that the pressure on project managers to cut costs is resulting in damaging "unintended consequences".
A spokesperson for Balfour Beatty said the company "is committed to its supply chain and is at the forefront of government and industry initiatives supporting the well-being of our suppliers".
The spokesperson added: "Balfour Beatty has had a long standing valued relationship with Dortech, spanning many projects over 13 years. Dortech has recently completed six schools under the BSF programme with Balfour Beatty. These contracts were completed in August 2012 with the last of these accounts agreed early in November 2012."