The project will see the largest new park created in West London for over 100 years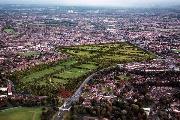 Gleeds has been appointed as project and cost manager on Cheltenham-based investor Formal Investments' Rectory Farm development in Hounslow.
Plans for the 110-acre site near Heathrow Airport include the removal of sub-surface minerals and the conversion of the subterranean space created from the extraction turned into 175,000m² of warehouse and storage space.
Above ground plans include a new park which will feature amenities such as a multi-use games area, cricket nets, football and hockey pitches, community gardens, a running track, tennis courts and an outdoor amphitheatre and concert pavilion. The scheme has been reccommended for planning permission.
Richard Steer, chairman of Gleeds, said: "The huge reserve of gravel concealed below ground at Rectory Farm is much needed for the construction of London's schools, hospitals, roads and homes so I am delighted that recommendation for approval has now been granted.
"This is a truly pioneering project which is going to completely transform the area for both businesses and residents, who will benefit from a fantastic public park and a considerable boost to the economy of Hounslow."
Formal Investments director, Nicholas King, said: "It is hugely exciting to know these ambitious and visionary plans, overwhelmingly supported by local residents, have taken a massive step towards going ahead.
"We have worked hard with Hounslow's planners and councillors to get the proposals right, so that we can provide a local economic boost and give the people of Hounslow a tremendous legacy in the form of a new public park free for all to enjoy."