Major government framework will be eight months late but has risen from £600m to £750m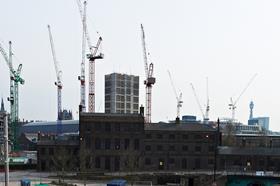 A repeatedly delayed four-year government framework for consultants has been given a new award date of 3 February 2014 - more than eight months later than originally planned and has risen in value to £750m.
The scheduled award date for the Architectural, Construction, Engineering and Inspection Services framework - previously known as Project Management and Full Design Team Services (PMFDTS) - was announced in a prior information notice (PIN) published this month ahead of a full tender expected by December.
The PIN also revealed the potential value of work up for grabs over the four-year life of the framework has gone up from £600m to £750m.
The tender was originally scheduled to go out last December in time for the framework to go live when the previous iteration expired on 16 June, but it has been repeatedly delayed.
This month's PIN was issued by private sector firm UK SBS, which took over management of the framework and two other public sector construction frameworks late last month.
The PIN also says UK SBS reserves the right to use "e-tendering", which could include controversial e-bidding.