Ecobuild latest: Association for the Conservation of Energy says it will seek a judicial review of government decision to scrap changes to building regulations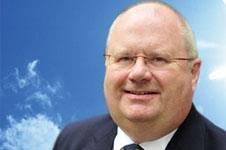 The Association for the Conservation of Energy has said it will press ahead with legal action against the government over its decision to scrap proposed changes to the building regulations that would have driven take-up of the Green Deal.
Communities secretary Eric Pickles announced in December that the government would not be pushing ahead with plans to introduce a "consequential improvement" under Part L of the building regulations, which would have forced home owners to upgrade the energy performance of their buildings when making other significant improvements.
Pickles scrapped the proposals despite widespread industry support. According to the government's own figures the new regulations would have given a boost to the government's flagship Green Deal scheme, resulting in 2.2m more households taking it up.
The plans had been consulted on earlier in the year, but had sparked a media backlash after they were dubbed a "conservatory tax".
ACE threatened to take Pickles' decision to judicial review last month and following a belated response from the government, received last week, has now decided to press ahead with the action. It will file papers at the high court on Friday challenging the decision.
Andrew Warren, director of ACE, said Pickles' decision to scrap the plans had been a "complete volte face". "We want to see a speedy resolution of this matter, so that we can begin to see some of the benefits which Mr Pickles identified last year would accrue from implementing the 'consequential improvements' strategy, of £11bn of savings to the economy, 130m lifetime tonnes of carbon dioxide and 2.2m more households benefitting from the Green Deal," he said.
Warren also said that Pickles had conceded in his response to the ACE that his statement to parliament in December had contained inaccuracies. "This included quoting completely inaccurate figures and drawing conclusions from the wrong focus groups," said Warren.
Asked to clarify what inaccuracies Pickles had made in his statement to parliament, the Department for Communities and Local Government declined to comment.
A spokeswoman said: "We will be robustly contesting this legal challenge. We believe that consequential improvements would discourage many home owners from improving their home and, after careful consideration, we will not be imposing new regulations in this regard."