Cabinet secretary labels firm's operational performance "positive"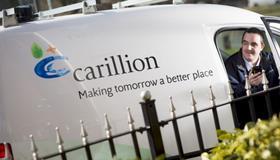 The government has confirmed it has contingency plans in place should under-siege Carillion collapse.
Cabinet office parliamentary secretary Oliver Dowden told parliament today that "we of course make contingency plans for all eventualities".
In response to Labour MP Jon Trickett's question regarding the possible failure of the stricken contractor, he continued: "Carillion, as members will know, is a major supplier to the government, with a number of long-term contracts.
"We are committed to maintaining a healthy supplier market and working closely with our key suppliers." He also told parliament that "Carillion's operational performance has continued to be positive".
In his question, Trickett also raised concerns that if Carillion collapsed "it would risk massive damage to a range of public services".
Despite being questioned about how much a collapse of Carillion would cost taxpayers, Dowden failed to provide specifics about any plans.
The news comes on the day the country's second biggest builder was due to meet lenders about a rescue package, with speculation growing it will have a recovery plan in place by the time new chief executive Andrew Davies joins the business on 22 January.
It is battling a number of issues – including the admission that year-end debt for 2017 would likely top £900m.
Yesterday, the firm said it did not know why its share price shot up by more than a quarter on Monday. It saw its price close 26% up on Friday's trading following news over the weekend the firm will meet banks this week including Barclays, HSBC and Santander about a potential refinancing deal.