Structure was closed to all users last month
The government has set up a taskforce to reopen Hammersmith bridge after it was closed due to structural problems.
The 133-year old cast iron bridge (pictured) was closed to motorists in April last year after cracks were detected but remained open to pedestrians and cyclists.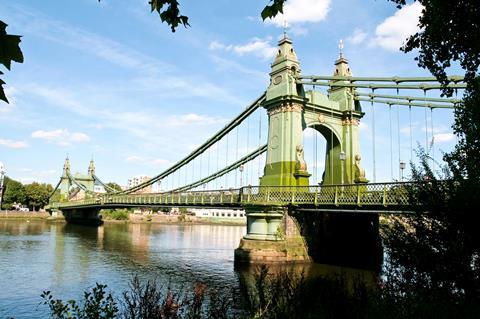 But it was fully closed and fenced off last month after the cracks were found to have widened during a heatwave.
It has caused travel chaos to pedestrians and motorists on either side of the river and on the river itself, with vessels banned from passing underneath the bridge.
Transport secretary Grant Shapps announced on Twitter that he was establishing a task force and drafting in engineers to reopen the bridge.
He said: "Londoners have waited too long for Hammersmith Bridge to be fixed so they can get on with their journeys. That's why I've established a task force and called in specialist engineers to deliver rapid solutions."
The taskforce will be chaired by transport minister Baroness Vere.
London mayoral candidate for the Conservative party Shaun Bailey took credit for the move on Twitter, claiming he asked the government to step in because current mayor Sadiq Khan had "failed to do his job".
The grade II-listed bridge has had a troubled recent history. The IRA attempted to destroy it with explosives three times, the latest being in 2000.