HBF publishes report on benefits of under-fire initiative as government mulls overhaul
The head of the Home Builders Federation has said the government should continue to back the Help to Buy initiative, saying it has increased the number of homes built and created thousands of jobs during its five years.
An HBF report out yesterday said more than 80% of those who have used it were first time buyers and that the value of the government's investment had gone up an estimated £1bn to £9.8bn.
It comes as Redrow chief executive John Tutte this week said the industry needed clarity over the future of Help to Buy, adding that getting rid of it would be "ridiculous".
And in its annual results yesterday, the country's biggest housebuilder, Barratt, said Help to Buy "continues to support robust consumer demand".
Speculation has grown the government could amend the scheme or ditch it altogether over worries it is stoking property prices and not reaching the worthiest recipients.
Housebuilders are hoping the initiative could be extended to 2023 but it could be tweaked to include household income caps on those who use it as well as limiting it to first time buyers only. Under the current rules, anybody can use Help to Buy to purchase a new build house with a value of up to £600,000.
In its report, the HBF said Help to Buy had helped drive up housing supply by 74% and its chairman Stewart Baseley said: "Help to Buy has been an unmitigated success. Government should celebrate its success and use the hard evidence now available to rebut the claims of its critics."
He added: "It has enabled hundreds of thousands of people to realise their dream of owning a home, the vast majority of whom are first time buyers on average incomes. It has led to an unprecedented increase in house building activity, created tens of thousands of jobs and boosted local economies the length and breadth of the country."
The HBF said claims that Help to Buy helped drive up house prices were wrong because the rate of house price growth for new build homes continued to mirror price rises in the wider housing market. It said since March 2013, new build prices had risen 38% compared to 35% for existing properties.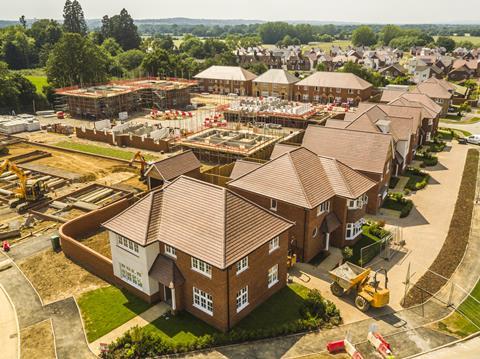 Critics of Help to Buy have said the initiative is being used by firms to ramp up profits and increase directors' entitlements.
On Tuesday, Redrow chairman Steve Morgan reignited his criticism of Persimmon's bonus scheme branding it a "disgrace" that has allowed critics to accuse housebuilders of being too greedy and has jeopardised Help to Buy.
He said opponents were using the bonuses furore to demand Help to Buy be scrapped with Liberal Democrat leader Vince Cable earlier this year saying bosses at Persimmon were "basically pocketing large amounts of money gifted by the taxpayer for executives, which underlined the stupidity of Help to Buy".
But Morgan told Building: "What is just silly nonsense is saying that it [Help to Buy] is lining housebuilders' profits. If we don't build enough homes, we get criticised. If we do and make money, we get criticised. The focus should be on those it has helped which is first time buyers."