Building owners encouraged to send ACM cladding sample for testing, as well as a range of information connected to this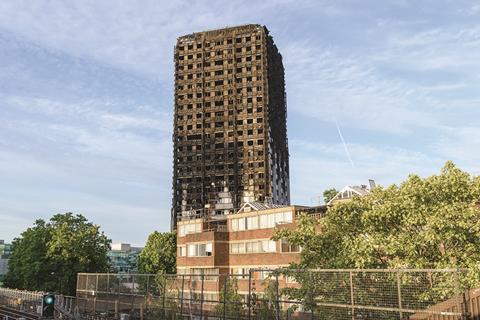 The government has written to local authorities to offer follow up guidance on identifying all residential tower blocks with Aluminium Composite Material (ACM) cladding following June's Grenfell tower fire.
It comes after it revealed that just eight out of 173 high rise social housing blocks fitted with aluminium cladding passed building regulations connected to fire safety.
A spreadsheet has been sent out which contains a list of all privately-owned residential buildings over 18m. This also includes information on whether a building has already had cladding confirmed as ACM, the cladding being blamed for the Grenfell fire, through the government's testing at the Building Research Establishment (BRE).
A second list has been issued of high-rise residential buildings in their area where the local authority is recorded as the freeholder.
They are being asked to use these to contact the building owners to ensure they have records of those that may have ACM cladding on their exterior, encouraging them to send their sample to the BRE testing process to confirm its type. They will then receive advice from the department on ensuring the building is safe.
The government wants private building owners to submit their samples for testing and to make contact with the Fire and Rescue Service (FRS) in their area, which have been carrying out checks on buildings.
The government will then ask for the data they have collected on the buildings in their area. This will include confirmation of which buildings don't have ACM; buildings where it has received a BRE test result confirming ACM is present, confirmation of whether the building owner has a satisfactory plan for remedial action and has implemented interim fire safety measures recommended by the FRS; those where they are aware of ACM cladding which has not been tested by the BRE; and buildings where they are not able to confirm whether the building has ACM or not and the reason this has not been possible to date.
The government said it is also developing a "secure online data collection tool" to enable local authorities to easily submit this information. This is expected to go live at the end of next month and will be open for two weeks.