Plans to press on with scheme despite coronavirus outbreak
The government is still planning to push ahead with starting the main civils works this month on the first phase of HS2 despite the coronavirus pandemic.
When he gave the £100bn project the go-ahead back in February, Boris Johnson said main construction works were expected to start in April.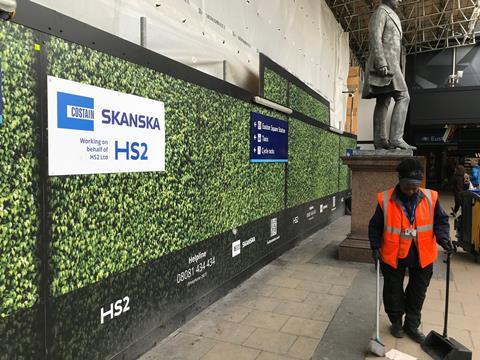 This date was widely expected to have slipped as the scale of the coronavirus crisis mounted but the Department for Transport (DfT) has told Building it is still working to this timeframe.
It said work was progressing on several areas related to HS2, including notice to proceed – the green light the government needs to give HS2 before it can tell firms to put shovels in the ground.
The department said more information on notice to proceed would be available in due course.
The decision to push ahead with the main works comes as a number of firms working on HS2 jobs stopped work last week as fears mounted over the practicalities of social distancing on construction sites.
The Costain Skanska joint venture (CSJV) – responsible for all enabling works south of the M25, including London's Euston (pictured) and Old Oak Common stations – has decided to stop work on site.
And a Skanska, Costain and Strabag team, which together with CSJV is responsible for all London works on the project, is also understood to have stopped work on the £88bn railway project.
The Align joint venture, made up of Bouygues, Volker Fitzpatrick and Sir Robert McAlpine, which is working on the Chiltern tunnels and Colne Valley viaduct, has also closed its sites.
HS2 referred all questions to the DfT.