Ground source heat pump tariff will double as energy department seeks to meet own targets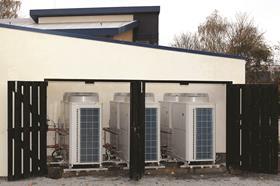 The government is set to double subsidies for some renewable heating technologies as part of revisions to its flagship scheme to roll out renewable heat technologies to non-domestic buildings.
The government has been in the process of adjusting the Renewable Heat Incentive (RHI) for non-domestic buildings to boost take-up, which has lagged behind its own expectations.
The government wants to get the scheme working effectively ahead of the introduction of the RHI for domestic buildings, which will start in spring 2014, after the government announced a fresh delay to the scheme in March this year.
Energy minister Greg Barker said last week that now, 18 months after the scheme launch, it was a "timely moment" to reassess tariff levels.
He said: "We need to make sure they are set at the right level to continue bringing forward investment and growth and at the same time keep costs to the taxpayer to a minimum. That's what our proposals set out today are designed to do."
Under the proposals the tariff for ground source heat pumps will rise from a minimum of 3.5p per kWh to between 7.2p and 8.2p per kWh.
Subsidies for solar thermal heating and large biomass boilers will also receive a small boost of around an extra 1p per kWh.
But alongside the consultation the Department of Energy and Climate Change (DECC) said the tariff for small and medium biomass boilers would be cut by 5% to keep costs under control.
Paul Thompson, head of policy at the Renewable Energy Association, said the government had "responded positively to evidence from industry" in planning to raise some subsidies.
However, he said it was "deeply frustrating" that it was cutting support for "the one technology that is actually delivering".
He added: "There's no suggestion that biomass tariffs are too high - it's just that the real world deployment has not matched DECC's model."
David Matthews, chief executive of the Ground Source Heat Pump Association, said the government's action was a "move in the right direction."