Government stats reveal rapid growth of renewable energy projects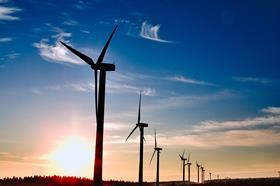 The UK's pipeline of renewable energy construction projects has grown by 28% in the last year, outstripping the growth in the pipeline of gas power plant schemes.
Figures published by the Department of Energy and Climate Change last week showed the pipeline of renewable energy projects either in planning or awaiting construction grew from 26GW of generating capacity to 33GW of generating capacity between November 2012 and September 2013.
The UK now has 37GW of renewable energy plant under construction or in planning, up from 30.5GW in 2012.
In its annual energy statement DECC said the UK "continued to be an attractive destination for energy investment" and said the country was the most attractive in the world for offshore wind investment.
It said: "Increasing the deployment of renewable energy is supporting growth and prosperity in the renewable sector, and will improve energy security by diversifying the UK energy supply mix and helping to insulate consumers from fossil fuel price spikes."
However, Mike Pigott, UK power sector director at Turner and Townsend, said the developers of renewable projects would still need to agree deals with the government for a price for their electricity before going ahead.
He said: "It's only when they [developers] have the commercial case and the mechanisms to make money, that they get to the point of making a final investment decision."
The statistics also showed that despite the government's much trumpeted "dash for gas", the pipeline of gas projects had not gown as fast with an increase of 14% in the amount of electricity supply that was in planning or awaiting construction.
Paul McQuillan, head of renewable at EC Harris, added that there were a lot of gas power plants that had been approved for a long time but were not economic to build.
He said: "The margins to be made are not attractive at the moment." He said that the base load of electricity was being met through offshore wind and coal power plants, which meant gas power plants only needed to be operating some of the time, making it less attractive to build.
According to the figures the levels of carbon capture and storage, which is still at a very early stage of commercial development, and nuclear generating capacity in the pipeline remained flat year on year.