Hannah Vickers says there needs to be National Infrastructure Bank backing for small and medium-sized projects
The construction industry needs to have a visible, funded pipeline of projects to keep it ticking over as it fights to help the economy recover from the covid-19 recession.
As chancellor Rishi Sunak prepares to unveil his budget later today, Hannah Vickers, chief executive of the Association for Consultancy and Engineering, told a webinar organised by the Construction Leadership Council (CLC) and Building: "It's not a matter of not having finance for schemes, it's about matching it to the right schemes and getting small and medium-sized schemes off the ground more quickly."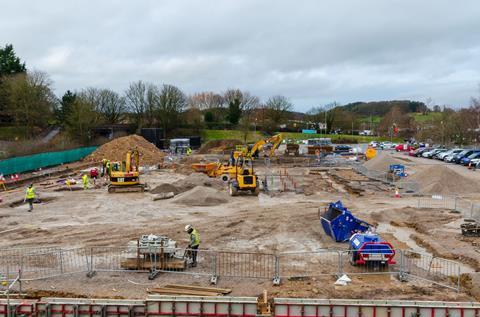 She said the industry needed a government-backed, low-interest finance product that would be open to local authorities, public-private partnerships and not-for profit regeneration programmes.
>> Watch: On-demand webinar: The CLC on construction's role in kick-starting economic recovery
Vickers said the government should also ensure the funds were managed and supported by a team of property and finance professionals who would bring development capability to the programmes underwritten.
She said this would support local authorities, who may be unable to afford to bring in expertise internally and give central government the confidence the programmes were being delivered efficiently.
Vickers also recommended the government make it a requirement that any regeneration project must have net zero targets in place to receive funding.
Brian Berry, chief executive of the Federation of Master Builders, said the need to use finances to push the sector toward net zero was also evident in the retrofit programme for existing housing stock the CLC is proposing government adopts.
Speaking as part of the same webinar Berry, who is also the chair of the CLC's repair, maintenance and improvement workstream, said: "We are asking the government to invest £5.3bn to get this [retrofit] programme off the ground."
Berry said that over the life of this parliament the programme would create 100,000 jobs, increase government revenue by £12.4bn and add £21.9bn to the national GDP. He also said the health benefits of retrofitting homes would save the NHS £1.4bn over the same period.
The webinar is available on demand.