Minister says firms linked to blacklisting that do not pay compensation 'unlikely' to be barred from bidding for public work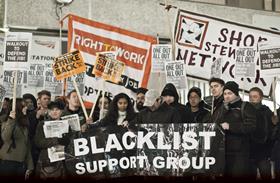 The government has said it is "unlikely" that construction firms linked to blacklisting can be barred from bidding for public work in the future if they do not pay compensation to blacklisted workers.
In the government's response to the Scottish Affairs Select Committee's report on blacklisting in the construction industry, employment minister Jenny Willot all but ruled out the possibility of requiring construction firms with links to blacklisting to pay compensation or face being excluded from public sector work.
The recommendation was contained within a report by the committee, which has been investigating blacklisting in the construction industry.
The committee's report set out how firms linked to infamous blacklisting organisation the Consulting Association (TCA) can make amends through a process of "self-cleaning" - including paying compensation- and said that any firms that did not take the appropriate steps should be barred from gaining any publicly-funded work.
Blacklisting came to light in 2009 when the Information Commissioners Office (ICO) seized a TCA database of 3,213 construction workers and environmental activists used by 44 companies to vet new recruits.
But in response to the committee's report, Willot said it was "unlikely" that the government would "be able to require compensation as an automatic pre-condition of 'self cleaning', and particularly where there has been no legal finding or other admission of liability, and/or no compensation has been ordered by the courts".
She added: "Banning contractors from procurement process would be subject to European rules on procurement, and government is required to operate within this framework.
"This includes the need to evidence before excluding and exclusion can only be used as a way to force companies to address past misdemeanours if they are not doing so. It cannot be used as a punishment."
However, she said that current UK legislation did provide that a firm "may be treated as ineligible to bid [for public sector work] where it has committed an act of grave misconduct in the course of its business or profession".
"Blacklisting may arguably fall within this definition. This would need to be decided on a case by case basis," she added.
Willot also ruled out the committee's recommendation to mandate direct employment in the construction sector as part of a package of measures to prevent blacklisting from occurring again.
Willot said: "The government supports the use of flexible employment structures in the labour market and as such cannot agree with the recommendations for requiring direct employment only.
"This would effectively be a ban on the use of agency staff in the construction sector, which is likely to be unfair to agency workers.
"Our view is that an effective regulatory regime along with the promotion of the benefits of best practice and a culture of transparent and responsible businesses should guard against individuals being blacklisted from the outset."
She said there was "nothing to suggest that the changes made to the regime since the Consulting Association case are not acting as an effective deterrent to blacklisting" and the government would not consider legislative reform, unless it was presented with evidence that blacklisting was still an ongoing issue.
"With regard to the potential for changes to legislation, this government remains committed to reviewing the Blacklists Regulations should any new evidence of this practice continuing be found," she said.
Scottish Affairs Select Committee chair Ian Davidson said the committee was "very disappointed" in the government's response, adding that recent allegations concerning blacklisting by an international employment agency, with operations in the UK, showed the extent of the problem with agency workers.
He said: "What we have seen shows clearly that the use of agency workers is a weak spot in eradicating blacklisting and we therefore recommended that direct employment and transparent recruitment practices should be standard for all public-sector contracts in the construction industry.
"This concern has been vindicated with the recent allegations that an international employment agency that operates in the UK has been blacklisting employees, using a secret register to prevent workers who complain about pay or who join a trade union getting further work.
"I will be asking the committee to look at these new revelations with a view to further hearings."
He said the committee would also "shortly" be reviewing the progress of the Construction Workers Compensation Scheme (CWCS), which was set up last October by eight firms linked to TCA - Balfour Beatty, Carillion, Costain, Kier, Laing O'Rourke, Sir Robert McAlpine, Skanska UK and Vinci - in a bid to resolve the dispute.
Talks about the scheme are ongoing, with unions describing the levels of compensation offered under it as inadequate.
Davidson said: "The committee will also shortly be reviewing the process of negotiations, between the companies already found guilty of blacklisting and representatives of their workforces, to ensure that both sides are giving the need for a fair and commensurate settlement the urgency it deserves."