Key meeting between parties reported to have broken down without agreement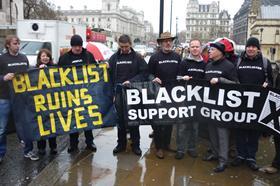 The future of the compensation scheme for blacklisted workers has been cast in doubt, after one of the unions involved in setting it up claimed talks were "on the brink of breaking down".
A spokesperson for union the GMB told Building representatives of blacklisted workers and contractors walked away from a "concluding meeting" between the parties last month "without reaching agreement".
However, the Construction Workers Compensation Scheme denied the talks had broken down.
The primary area of disagreement is over the level of compensation contractors are willing to make available to workers who were blacklisted, with the GMB claiming firms have made between £15m and £20m available, which they said was "grossly inadequate to deal with the devastating damage inflicted on people in their working lives and the colossal invasion of their privacy."
Blacklisting came to light in 2009 when the Information Commissioners Office seized a database of over 3,000 construction workers used by 44 companies to vet recruits.
Last October eight firms - Balfour Beatty, Carillion, Costain, Kier, Laing O'Rourke, Sir Robert McAlpine, Skanska UK and Vinci - set up the Construction Workers Compensation Scheme in a bid to resolve the dispute.
A spokesperson for the Construction Workers Compensation Scheme said: "We don't agree that talks between the compensation scheme and unions have broken down, talks are ongoing.
"We have already made significant concessions, including on compensation levels. We are disappointed that the GMB is representing the situation in this light."