Cameron and Clegg unveil £4.2bn capital investment programme - on top of £5bn already announced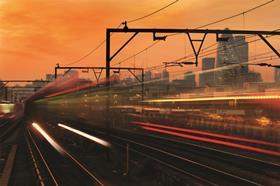 The government has announced £4.2bn of new investment in rail as part of a £9.4bn programme of investment through to the end of the decade.
Speaking on the Radio 4 Today transport secretary Justine Greening said that the government was announcing £4.2bn in new investment from 2014-19 on top of £5.2bn in previous announced capital spending.
She said a large part of the programme would be focused on electrification, and that by the end of the programme 75% of journeys would be on electric trains.
David Cameron and Nick Clegg will pitch the investment as the largest since the Victorian era at an event in the Midlands today.
The government is also planning to announce a boost to housebuilding this week, as it seeks to bounce back from a week of negative headlines surrounding reform of the House of Lords.
The transport plans include electrification of several lines and the symbolic reopening of some routes closed by the government in the 1960s, including the part reopening of the Varsity line between Oxford and Bletchley.
The Department for Transport said the plans included:
Upgrades to stations and tracks including the £350m lengthening of platforms at London Waterloo station
£240m of improvements along the East Coast Main Line from the North East down through Yorkshire, Lincolnshire and Cambridgeshire to London
The creation of a high-capacity "electric spine" running from Yorkshire and the West Midlands to South Coast ports.This comprises: an £800m electrification and upgrade from Sheffield - through Nottingham, Derby and Leicester - to Bedford, completing the full electrification of the Midland Main Line out of London St Pancras; and electrification of the lines from Nuneaton and Bedford to Oxford, Reading, Basingstoke and Southampton
Completion of the the full electrification of the Great Western Main Line out of London Paddington at a total cost of more than £600m, and electrifying the Welsh Valley lines, including Ebbw Vale, Maesteg and the Vale of Glamorgan
Completion in full of the "Northern Hub" cluster of rail enhancements with the approval of £322m of outstanding track and capacity upgrades across Manchester city centre, Manchester Airport and across to Liverpool. These are in addition to £477m of Northern Hub schemes already approved across the North of England such as electrification of the North Trans Pennine route between York and Manchester
A new £500m rail link between the Great Western Main Line and Heathrow allowing direct services to the airport for passengers from the West Country, the Thames Valley and Wales