Subsidy for renewable power projects increased under energy market reforms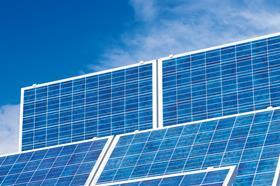 The government has upped the amount of money it has allocated to subsidise the construction of renewable power projects to £300m.
The revised budget is an increase of £95m on the previous level.
The funding is part of the government's electricity market reforms and will be doled out to firms who successfully bid for a contract for difference (CFD) from the government guaranteeing the price they can sell their electricity.
The government has already struck a similar deal with EDF to support the construction of its £16bn Hinkley Point nuclear plant. That deal is expected to get regulatory clearance from the European Union later this month. This will not be funded from the renewable energy pot.
The money for renewable energy projects will be split into two pots. The government will earmark £65m to support established technologies and the remaining £235m will be used to support newer technologies.
Energy secretary Ed Davey said the government was "transforming the UK's energy sector" by building "a new generation of clean, secure power supplies that reduce our reliance on volatile foreign markets".
He said average annual investment in renewables had doubled since 2010 with "a record breaking £8bn worth in 2013".
"By making projects compete for support, we're making sure that consumers get the best possible deal as well as a secure and clean power sector," he added.
The government also announced that it would no longer fund large-scale solar farms through its Renewables Obligation scheme. The scheme gives firms Renewables Obligation Certificates (ROCs) for the renewable power they generate, which can then be traded in for a share of the cash paid by firms that fail to meet such obligations.
From April 2015, large scale solar farms will not be eligible to claim the certificates.