National Audit Office says BEIS must 'learn lessons from experience'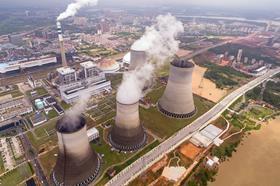 Around £168m of taxpayers' money was wasted on competitions for failed carbon capture and storage projects, according to the government's spending watchdog.
Two competitions were launched for carbon capture and storage (CCS) schemes, which aim to make "dirty" power plants greener by capturing up to 90% of carbon dioxide emissions.
One was cancelled in 2011 after £68m was spent by the government, while £100m was spent on a competition which was axed at the end of 2015.
That competition saw Capture Power, a joint venture between engineering firm Alstom and chemical company BOC, compete against Shell for £1bn in funding to build a CCS power plant in Yorkshire.
A report from the National Audit Office (NAO) found that the Department for Business, Energy and Industrial Strategy (BEIS) began the second competition without agreeing with the Treasury on the amount of financial support available over the lifetime of the projects.
It found this ultimately contributed to HM Treasury's decision to withdraw £1bn of funding from the competition, leading to its cancellation, as it was concerned about future costs to consumers.
But BEIS had designed the competition so it could withdraw from supporting its preferred bidders without incurring cancellation costs.
Amyas Morse, head of the NAO, said: "Not being clear with HM Treasury about what the budget is from the start would hamper any project, and caused particular problems in this case where the upfront costs are likely to be high."
He added that BEIS "must learn lessons from this experience if it is to stand any chance of ensuring the first CCS plants are built in the near future".