Culture secretary issues listing immunity for remaining parts of 1980s scheme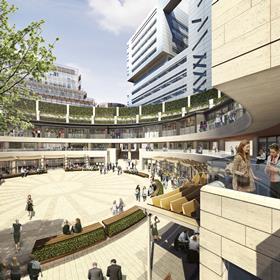 Developer British Land has been given freedom to knock down and rebuild more of the iconic Broadgate development after securing a government assurance that it will not attempt to list the 1980s scheme.
Culture secretary Maria Miller today issued certificates of immunity from listing for the major remaining parts of the development by Liverpool Street Station in London. The certificate of immunity applies to the Broadgate Circle, 1-2 Broadgate, 8-12 Broadgate, 100 Liverpool Street and the monumental "Fulcrum" sculpture.
British Land has already received planning permission for an Arup –designed scheme for the Broadgate Circle, and has appointed Hopkins Architects to work up plans for redeveloping 8-12 Broadgate and 100 Liverpool Street.
The confirmation of immunity from listing follows on from a row last year over the plans by British Land and Blackstone to redevelop 4-6 Broadgate which were eventually given permission by the previous culture secretary Jeremy Hunt.
The row saw Sir Stuart Lipton, the original developer of Broadgate, brand the Make-designed scheme, which is now on site, the "worst in the City for 20 years."
The certificate provides British Land with a guarantee the buildings will not be listed within the next five years.
Supporters of the original Broadgate scheme will note that one of the reasons cited by Miller for not listing the remaining buildings is that the whole development is of reduced interest because of the demolition of 4-6 Broadgate.
In addition Miller said that Broadgate is not of special historic interest beyond that of other commercial buildings of the 1980s, and that buildings embodying the 'Big Bang' and ensuing de-regulation of the 1980s are better represented by Docklands, especially Canary Wharf.
Miller said: "Whilst I appreciate that the Broadgate Estate is a site known and liked by many Londoners, it is not believed that architecturally statutory listing is required. I am therefore happy to grant a Certificate of Immunity which will provide owners with certainty when making proposals about its future."
In a statement British Land said that it was continuing to look at plans for refurbishment or redevelopment of Broadgate with the potential to generate "hundreds of millions of pounds of investment and create thousands of new jobs."
The statement said: "This decision provides certainty, without the threat of listing now or in the immediate future, enabling us to continue managing the successful evolution of Broadgate, so that it continues to be an engine of economic vitality, recovery and growth."