Karakusevic Carson Architects-led programme set to deliver 400 new homes
The London Borough of Hackney has given the green light to the final phase of regeneration for its Nightingale Estate, in Clapton east London, which will deliver 400 new homes.
Members of the council's planning committee approved the proposals, drawn up by Karakusevic Carson Architects, Henley Halebrown Rorrison Architects, and Stephen Taylor Architects at their meeting last week.
The new homes – for a mix of social rent, shared ownership and market-sale – will be delivered in blocks of five and six storeys as part of a programme that will also see the part refurbishment of the 22-storey Seaton Point tower block.
Also included is a 232 sq m of retail/café space, a 453 sq m community centre, and a new estate office.
While Seaton Point remains as part of the regeneration programme, five other towers have been demolished to make way for the new properties.
More than 750 new homes will have been delivered on the estate once all phases of regeneration work are complete.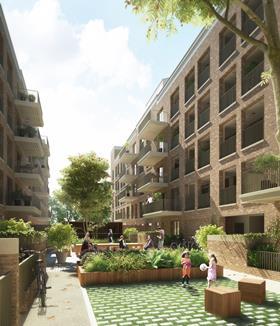 Hackney Mayor Philip Glanville said local residents had spent more than two years contributing to the design of the new homes and public spaces.
"I'm proud that we are building thousands of new homes ourselves through our estate regeneration programme – with more than half for social rent or shared ownership," he said.
"We can now get to work on delivering more homes for residents struggling to find an affordable place to rent or buy."
Hackney said construction would start later this year.
Townshends Landscape Architects designed the public realm for the programme.