McAleer & Rushe win planning permission for 100,000 sq ft scheme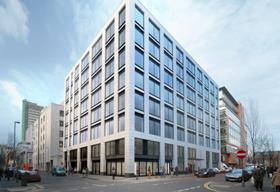 McAleer & Rushe has won planning for a 100,000 sq ft office building in central Belfast, thought to be the largest office development in the city for around 10 years.
Designed by Todd Architects, the office building will be developed on the site of the former Clarendon House, after being purchased by Belfast City Council for £24.7m.
Declan Boyle, chairman of the council's strategic policy and resources committee said: "We are delighted to be working on this development in partnership with McAleer & Rushe. This is further significant investment in the city centre by Belfast City Council, following on from our £150m investment programme which was launched in 2012."
Once finished, the office will deliver a BREEAM Excellent standard in line with current sustainability and energy efficiency requirements. The office is expected to be funded through the council selling surplus stock and rationalising its existing estate.
McAleer & Rushe property director Stephen Surphlis said: "McAleer & Rushe is very pleased to have been awarded the contract. We look forward to working with Belfast City Council to deliver this high quality office development which will be finished to BREEAM Excellent standard in line with current corporate occupier sustainability and energy efficient requirements."
McAleer & Rushe will act as developer and contractor for the project.