Findings will be made public, housebuilder promises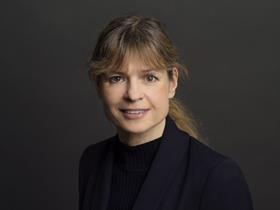 Persimmon is setting up an independent review of its customer care procedures to be headed by the QC representing survivors and victims of the Grenfell Tower fire.
Stephanie Barwise of Atkin Chambers has been asked by the housebuilder's chairman Roger Devlin to look at whether its customer care culture and operations is working.
In a statement, the firm said: "In order to assess the effectiveness of the new measures and processes and to determine whether they appropriately position the business for the future, Persimmon's board has commissioned an independent review."
Barwise (pictured) has been asked to look at several issues including the firm's snagging process, speed of response to defects, its construction inspection regime and quality assurance processes.
Devlin said: "Our objective is clear: we must ensure that all our customers are provided with the care, service and high-quality homes that they rightfully expect.
"An independent review is an important exercise which will establish whether the many changes we are making are going far enough and fast enough."
The firm's reputation has been hit by the fallout of the executive pay scandal which saw former chief executive Jeff Fairburn handed £75m under a long term incentive plan. Fairburn was forced to stand down last year and was replaced by Dave Jenkinson.
Last month the housebuilder said it is launching a retention scheme for its customers which would see an average of £3,600 held back by a homebuyer's legal team in the event faults are identified at the point of purchase.
Construction quality has dogged housebuilders for a number of years now and towards the end of last year veteran developer Sir Stuart Lipton said he is looking at getting into housebuilding – because he said the firms in it were not up to scratch.
"The houses they are putting up are shocking," he told Building. "They don't work – every week there's another horror story."
Barwise has been asked to come up with findings by the final quarter of this year. Persimmon said these will be made public.
Research from the Homeowners Alliance, which represents the interests of homeowners to the house building industry, suggest that only two thirds of new homeowners are happy with the way their builder resolved any defects with their home.
"There is no incentive for a builder to build right and move on," said chief executive Paula Higgins, who wants housebuilders to provide homeowners with a snagging retention so they have a reason to fix any defects.